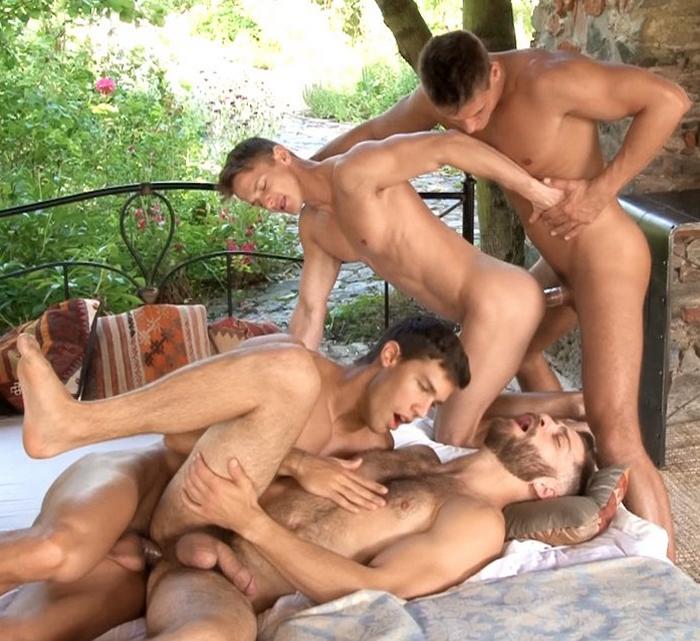 As I mentioned in previous post, tomorrow Wednesday July 13th, BELAMIONLINE.COM will release a special bonus video where two gay porn stars Tommy Defendi and Darius Ferdynand get fucked by BelAmi's muscle gods Kris Evans and Vadim Farrell. Needless to say, this scene is gonna be EPIC.
This scene was shot in Czech Republic two years ago back in July 2014. Tommy Defendi and Darius Ferdynand were in Prague filming Dirty Rascals, the co-production between BelAmi and Nakedsword. I was lucky that I was there doing behind the scenes coverage of this porn shoot as well. On that day, mr. Pam was filming the 5-way orgy starring Connor Maguire with 4 BelAmi models at one side of the property. On the other side, BelAmi crew were also filming this 4-way fuckfest with Darius Ferdynand, Tommy Defendi and BelAmi's popular gay porn star Kris Evans and Vadim Farrell.
Yes, Nakedsword filming 5-way at one side while BelAmi filming 4-way at the other. We heard loud moaning from both orgies throughout the property the whole day. Not that I'm complaining. Be sure to come back for more preview pictures from this 4-way fuckfest tomorrow.
Check out some exclusive behind the scenes pictures and a video clip from this 4-way below. (Don't tell BelAmi I sneaked up on their porn shoot OK?)
[UPDATE] This Kris Evans, Tommy Defendi, Darius Ferdynand & Vadim Farrell 4-Way Fuckfest is now online! You can watch the XXX trailer below.