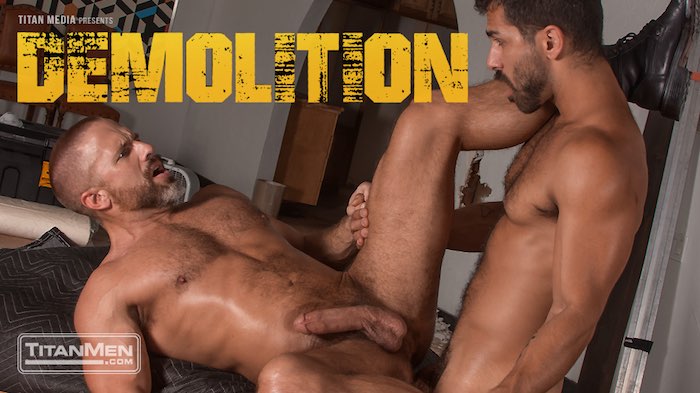 If you enjoyed the first sex scene from the movie DEMOLITION between Bruce Beckham and Eric Nero, don't miss scene 2 starring Adam Ramzi, Dirk Caber & Jack Giles. In this video, Adam Ramzi and Dirk Caber take turns fucking each other.
Adam Ramzi & Dirk Caber with Jack Giles in DEMOLITION (https://t.co/EoCmzqZcrq) @TitanMen @DirkCaber @adamramzixxx @jasunmark #GayPorn pic.twitter.com/7Sm2aHCQi1

— Queer Me Now (@QueerMeNow) January 11, 2017
At work in an empty pool, Adam Ramzi is approached by Jack Giles from Big Ball Wrecking: "I hear you need this hole demo-ed?" The two smile, embracing and licking each other's pits. Adam deep throats Jack's cock and they eat each other—but are soon interrupted by Dirk Caber, who wants Adam all to himself. Adam sucks and eats Dirk, then reaches around to stroke him as he fucks the grunting bottom from behind—squeezing pre-cum out of his cock and feeding it to him. The verbal Dirk ("Fucker!") continues to leak, feeding his finger to the top. On his back, Dirk's stiff shaft pulses up as Adam goes deep. Dirk squirts, then fucks a load out of the moaning Adam.
+ Adam Ramzi & Dirk Caber with Jack Giles in TitanMen's DEMOLITION