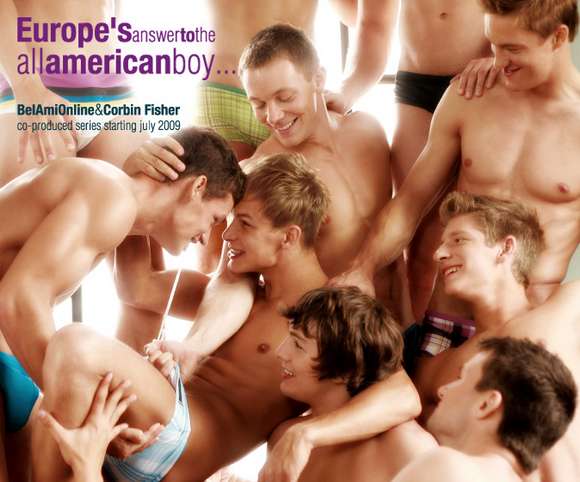 BELAMIONLINE.COM just redesigned its website with tons of new photo and video preview an a new magazine-style section called iBELAMINEWS. This was where I found this exciting news!
Last year, Bel Ami co-produced one hot sex scene with American porn site COCKYBOYS.COM featured Luke Hamill Fucks Jesse Santana. This year Bel Ami, legendary gay porn company from Czech Republic and American porn site Corbin Fisher announced an unprecedented partnership involving the sharing and joint production of content. The two companies have confirmed a deal involving collaboration on several exclusive scenes as well as a full length DVD, Five Americans in Prague, to hit the marketplace later in the year. (It's been 12 years since the release of Bel Ami's gay porn classic An American in Prague!)
The two leading porn companies recently completed a month of co-production that extended from San Francisco, CA to Prague, Czech Republic and Budapest, Hungary. Fans will see some of each company's most popular, exclusive talent featured in the jointly-producted material, including Dolph Lambert, Ariel Vanean, Luke Hamill, Brandon Manilow, Jean Daniel Chagall and Sascha Chaykin from Bel Ami and Corbin Fisher's Dawson, Connor, Elijah, Josh and Zeke.
Among the shared content are introductory episodes produced exclusively by each producer for members of the other's site. BelAmiOnline members will be treated to a never-before-seen video with Corbin Fisher's Derek and Travis on June 16, with CORBINFISHER.COM members offered a never-before-seen video featuring Luke Hamill and Alex Orioli from Bel Ami at the same time.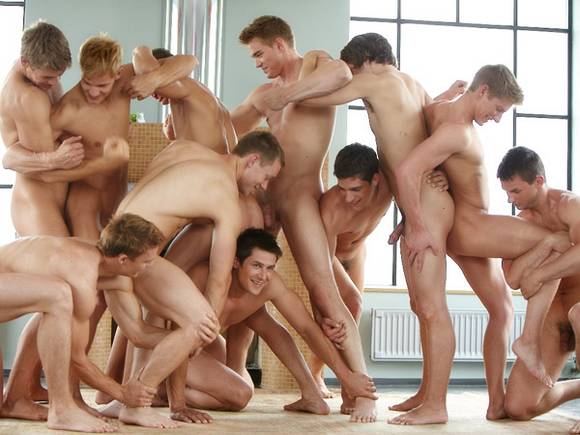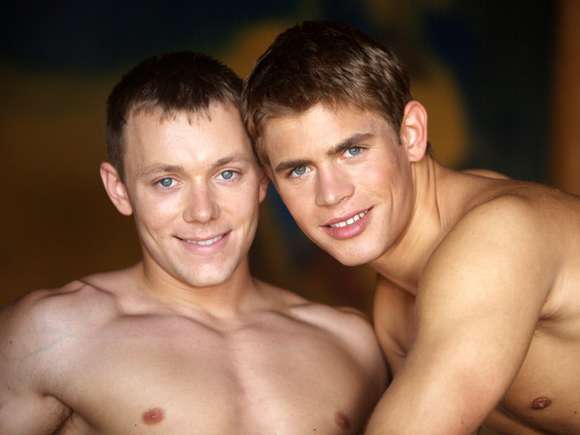 Message from iBELAMINEWS
The world of internet gossip and rumors is quite fascinating. Sometimes I read that Randy Blue is buying the Titanic which has already hit the iceberg (Falcon Studios will gracefully excuse my freshness), another time naughty Jim French tries to sue honest Colt tenant John Rutherford for not making his payments on the purchase of Colt studios, even though we all know how punctual John is when it comes to paying the bills. Then there are producers who feel a lack of media attention and have to commit fake suicides or shoot farting porn to attract some attention. And still there are some who lead quiet and boring lives of their own like Bel Ami or Corbin Fisher. Yet…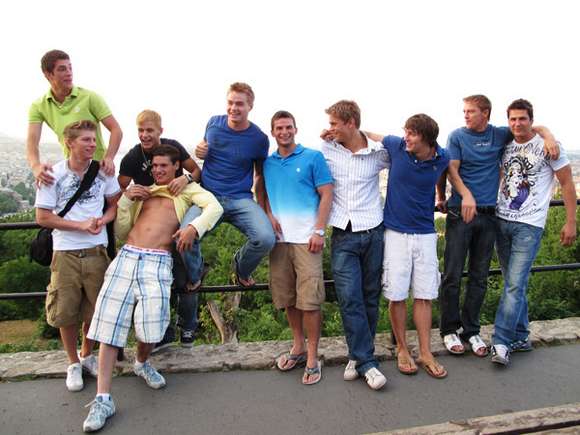 Recently some coy rumors appeared on internet about the possibility of a BA&CF collaboration. One worried CF customer even expressed the concern that Bel Ami could pollute the CF site with their materials. Another consoled him, admitting that BA occasionally creates something watchable, too. This unwarranted blog reading prompted me to look up in a dictionary EXACTLY what the word pollution means in Shakespeare's language. The Oxford edition claims it means…"make dirty, destroy the purity or sanctity of st. (in this case CF site). After some deliberations I'd like to make following statement:
1. Yes, this time rumors are substantiated. Corbin Fisher and Bel Ami dared to undertake an experiment and shot 12 mixed episodes together with some of their favorite models. BA boys were sodomizing CF Boys and other way round for a period of ten days. As the finished material proves, they did it happily and with a considerable amount of stamina.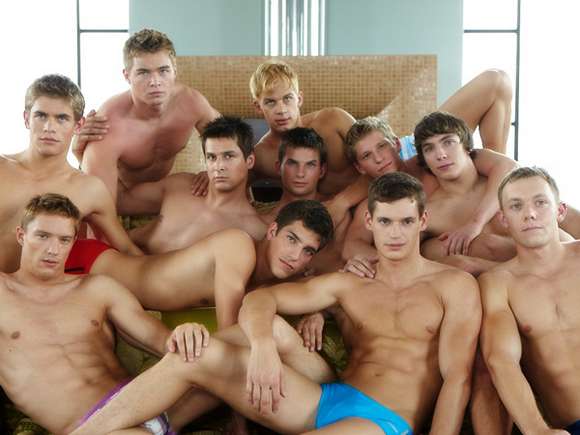 2. No, the Corbin Fisher sanctuary is not going to be desecrated by invading Bel Ami hordes trying to shoot their usual antics. We behaved and adhered to the strictest CF standards. No music. No loud colors. No exotic languages (though BA models speak some accented English). Boys are doing their best to cum while being penetrated. Some facial cum shots. Plenty of horseplay, especially in the documentary bonuses. No staged sex (well, with the exception of one of G Duroy's vintage nonsenses). Simple and quick camera work.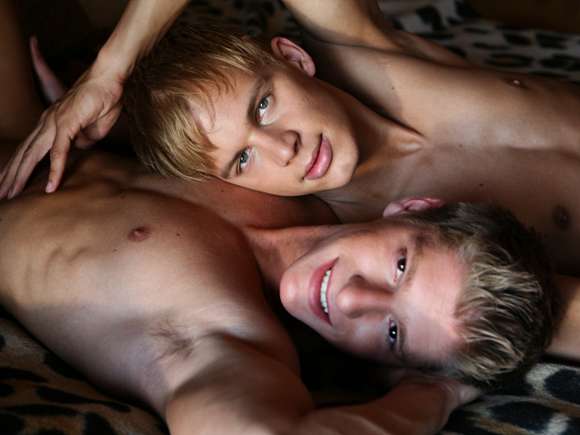 All in all we all had great time shooting it and there are good reasons to believe audiences will have equally good time watching it. The accompanying pictures will give you some idea. I'll return to give you more info in next newsletter. (Here I turn to my webmaster who will give you more programming details). GD
Above George has given you a bit of information on our coproduction with Corbin Fisher, but I hear you all asking 'what does that mean to the website'. Well, there are two changes that will affect the website. Firstly, we will get some new content with BA guys and CF guys. This will come about once a month. Secondly, Corbin has agreed to give all members of BelAmiOnline access to a full scene from his archive every week, so every week starting on June 16, we will be presenting to our members a scene from CF every week, and we will do the same in return for their members. The first scene is not really from their archive, but is an episode filmed exclusively for us.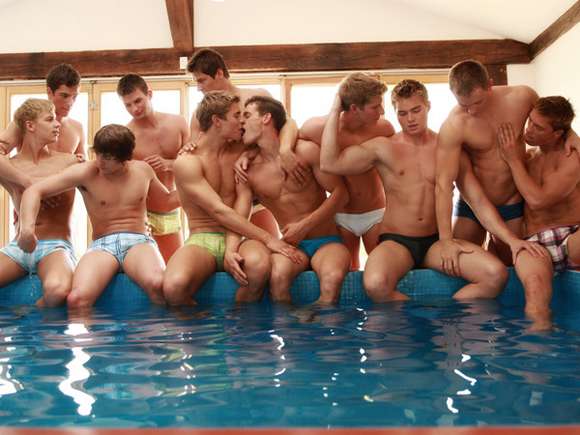 Corbin Fisher has produced one scene exclusively for BelAmi. It stars Derek and Travis and will premiere June 16. Each week we will add another episode from the archives of Corbin Fisher as well.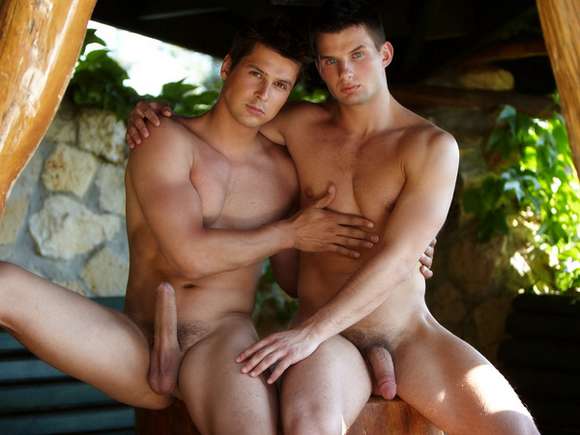 Check out what happens when "Europe's Answer to the All American Boy" meets the All American Boy beginning July 2009
+ BELAMIONLINE.COM | BEL AMI Video On Demand | BEL AMI DVD SHOP