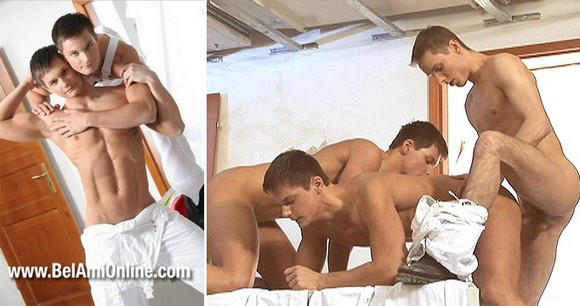 After Visconti Triplets left them to work with Elite Male Studio, Bel Ami just got themselves a new set of porn sibling, this time, twins named Elijah Peters and Milo Peters. They come to Bel Ami via Hammer Entertainment and have been working on one of the co-operating production. They both have gorgeous bodies with amazing six packs.
Johan wrote on his blog (he called them Radek and Michal) The brothers have ambitions to become big stars and they're really going out for it. They're regulars at the gym, they practice martial arts, they work hard at everything that will keep them in class A condition.
I had a big problem keeping straight who is Radek and who Michal, since they're almost identical – you have to check very carefully to find some difference between them. The boys, who are very communicative, gave me a clue; they told me their dicks curve in opposite directions but I'm still not sure which is which! You see what great bodies they both have, I'd say they're perfect, and their six packs are really something. When George saw them he said immediately they could be cover boys.
In their very first scene. They both got fucked in the ass and ended with oral cumshots for each! They did know how to kick start their porn career ^_^
+ Elijah and Milo XXX Photo Gallery
+ Sex Lab : Tony Eliott, Elijah Peters & Milo Peters
+ Check out BELAMIONLINE.COM