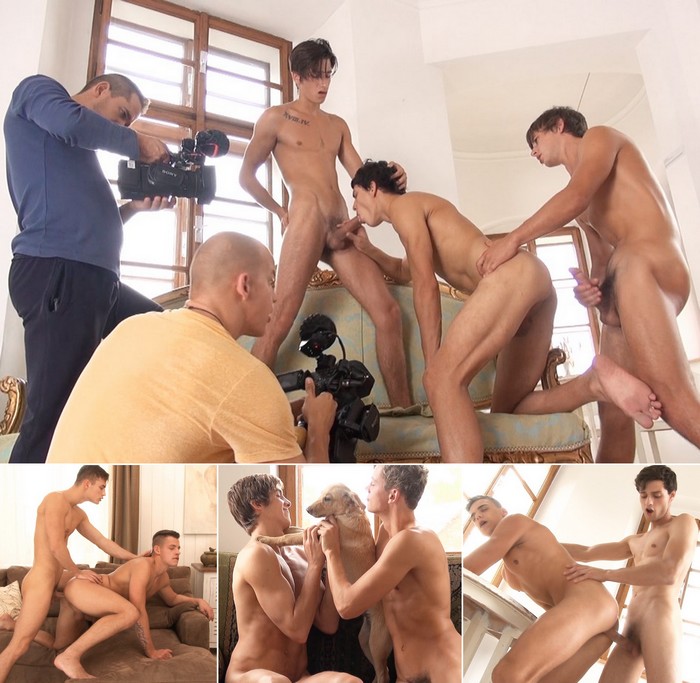 This Part 7 of SUMMER BREAK the gay porn behind the scenes documentary continues with the filming of Bastian Dufy, Nate Donaghy & Nino Valens 3-way and photo shoot with Hoyt Kogan, Helmut Huxley & Jerome Exupery. Check out these hot sex scenes: Hoyt Kogan fucks Jeroen Mondrian and Andre Boleyn fucks Joaquin Arrenas bareback.
'One more position' is a phrase heard quite commonly as our cameramen are getting towards the end of a days filming, although the '1 more position' that makes the title of today's episode is actually finishing the scene from the day before. Although we open we another regular sight, our boys sleeping, we are getting an idea here that they are actually all very adept at balancing work, play and sleep and that there is never a dull moment on set… Other featured boys today included Nino, Bastian and Nate in their scene together, Jamie and newcomer Hugo, Hoyt in his photosession and of course the ever present Kevin and the almost present Adam.
+ Watch SUMMER BREAK Gay Porn Behind The Scenes Documentaries on BELAMIONLINE.COM
After a stroll around the gardens, it is the bathroom that Andre and Joaquin choose as the venue of choice for having sex today. Andre has been eyeing off Joaquin for quite some time, so our expectations for this scene were quite high. Both dark haired guys are fairly intense lovers and although Andre has the edge with experience, Joaquin manages to match him in almost every regard. Freshman Joaquin is the bottom for today's scene and is clearly enjoying every moment of it.
+ Andre Boleyn Fucks Joaquin Arrenas Bareback
I am not sure if the game was rigged or if Jeroen just gives in easily, but Hoyt was definitely the winner in this game of cards, with the winner getting a blowjob. Of course it does not stop there, and without ever having to play another hand, Hoyt also gets to fuck Jeroen's cute ass as well. While both boys are versatile, we have been seeing lately that Hoyt's skills as a top have been getting better and better, and along with them, his desire to fuck other guys has gotten stronger and stronger. All this adds up to a very good time for Jeroen.
+ Hoyt Kogan Fucks Jeroen Mondrian Bareback