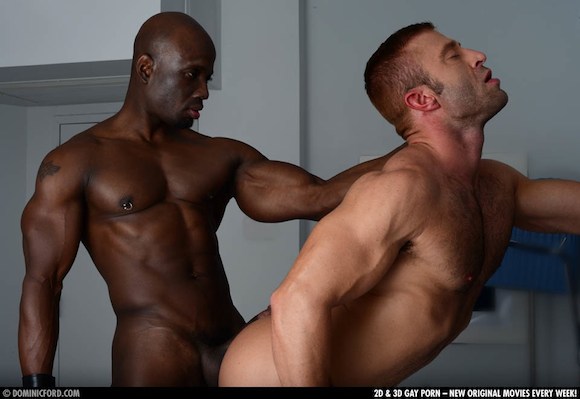 I've already posted the preview video of this scene last week. And now you can watch this hot scene BLACK+WHITE: Jay Black Fucks JR Bronson on Dominic Ford website.
I have some more XXX photos from this scene for you, both JR Bronson and Jay Black definitely have two of the best muscular bodies in gay porn for sure.
One of the hottest, most sensual films you will see all year. BLACK+WHITE is Dominic Ford's homage to art house movies. It features two stunning models, Jay Black and J.R. Bronson, in one of the most intimate and passionate sex scenes you are likely to see. The film is almost 30 minutes long, and follows no traditional formula. There are tons of oral, anal and rimming positions. And there is lots of body contact and kissing. The guys let us take a glimpse at the kind of masculine, lustful sex that most people only dream about. It's two gay men having the most intense and passionate gay sex you can imagine. Presented in a tinted black-and-white, this film is gorgeous. It is THE must-see film of the year — a stunning masterpiece.
+ BLACK+WHITE: Jay Black Fucks JR Bronson