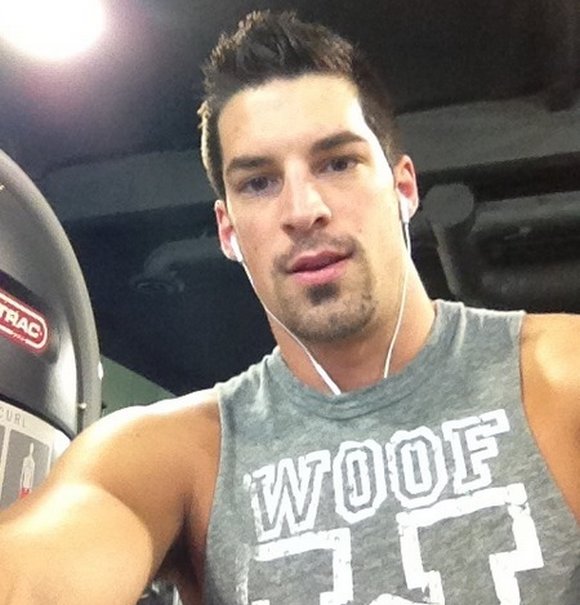 I hope you guys will give a warm welcome back to this very hot porn stud Cal Skye. As I reported weeks ago, Cal Skye shot his first fetish scene with his hot boyfriend Tom Wolfe for Fetish Force. Cal and Tom also worked with Raging Stallion for the big movie coming later this year.
I'm so lucky that Cal took time out of his busy schedule to answers my questions. So you and me can know more about this hot gay porn star Cal Skye and his hot boyfriend Tom Wolfe.
Note to any directors or producers who read this blog, ask Tom and Cal to do their special sex position "San Francisco" on camera ASAP!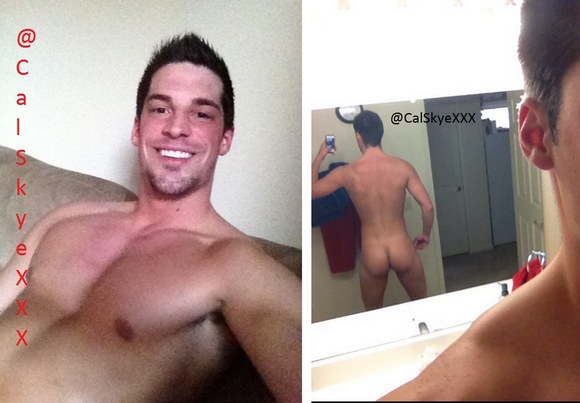 Please introduce yourself, how old are you? Where are you from? What did you do before porn?
Hi I am, Cal Skye. I am currently 24 years old and reside in Reno, NV. Before porn I was just your regular guy next door college student.
How did you get start in porn industry 5 years ago? Why did you choose to work for Falcon?
Growing up I always remember watching Falcon. Knowing Falcon Studios was the largest gay studio in the industry that produced the highest quality of productions. Therefore, making my choice easy, going with the best and most well-known!
How did you get your porn name?
The casting and PR Director at the time sat down with me discussing naming options. It wasn't anything big and elaborate, just a couple intimate conversations in the Falcon offices.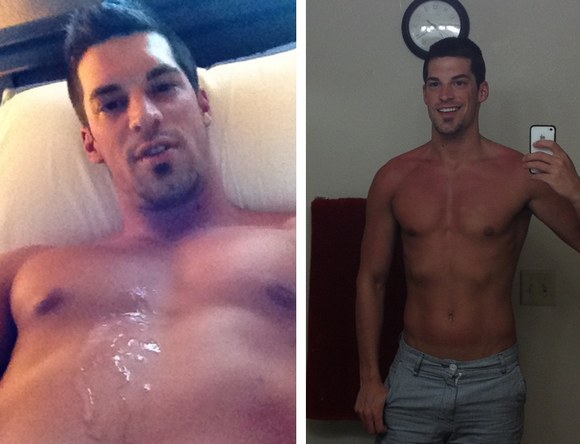 You shot two scenes with Falcon. How was your experience working with Sean Preston, Tyler Riggz and late Erik Rhodes? Anything memorable?
To be totally honest the first scene with Falcon was very nerve racking. It was my first three-some ever! The crew was very professional making it easier for me to relax, as much as they possibly could. My second shoot was with Erik Rhodes. I cannot tell you how excited I was to work with him. Erik was one of the guys I dreamed of working with and was very fortunate to have done so. I was not nearly as nervous working with Erik, since I already broke the ice with the first scene. The most memorable thing about shooting was meeting Erik and getting to know him, his personality and the insight he gave me on the industry itself.
Then, what happened after that, why did you leave porn industry?
At the time if felt like I needed to focus on myself and finish my education. With my educational plans filming just did not fit into my schedule.
What was you doing during your 5 years hiatus?
I focused on my education working to achieve my Bachelor's Degree in Marketing with a minor in Psychology.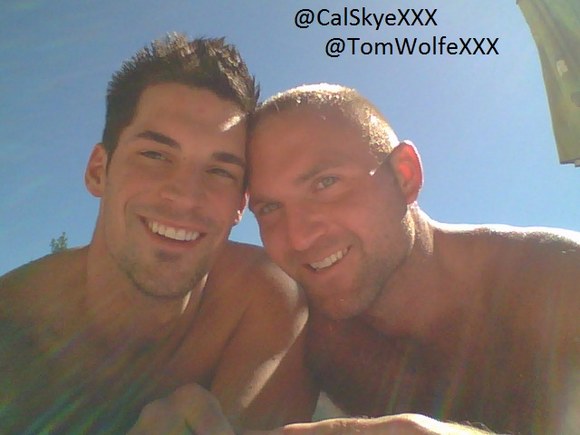 How long have you been with your boyfriend Tom Wolfe? How did you guys met?
Tom and I met on an application called Scruff. September 22 will be our one year anniversary. I am extremely happy with him and very thankful that Johnny Scruff and the Scruff team created such an amazing platform making us both available to meet.
What is it like to date a porn star? Any romantic stories to share?
At the end of the day we are all human, therefore, I do not think of Tom as my "porn star boyfriend." I am very lucky to have found such an awesome guy who understands me and who I can relate to on so many levels. Tom is somewhat of a romantic, but don't tell him I said that 😉 He knows when something is bothering me well before I vocalize it and he is already working to take care of it. For me that means a lot, knowing that he is always there and will take care of me if I ever need him.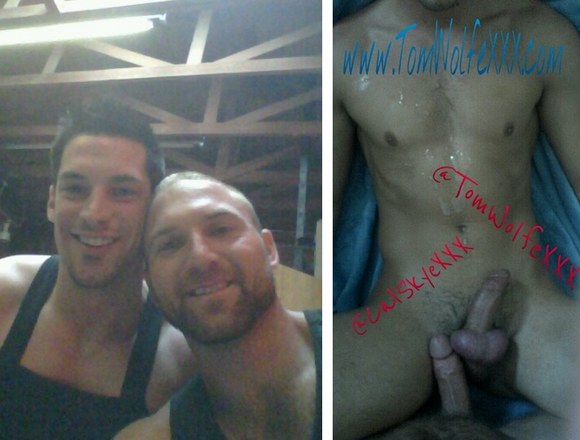 What do you like to do most with your boyfriend sexually?
Tom and I have a special position that we call the "San Francisco". It's a unique position where our bodies are flipped the opposite direction with a large round pillow strategically placed. I love the way his cock drills inside of me, penetrating me so deep as he strokes me until I cum. It is an absolutely amazing feeling! GRRR
Where is the craziest place you guys have sex?
You mean places like the public sauna where we live, the big sun bathing rocks at Lake Tahoe or the dressing room in a department store? We've hit each of those places. The next hot spots on our list are in the bathroom on an airplane and in a deer stand about 20 feet in the air.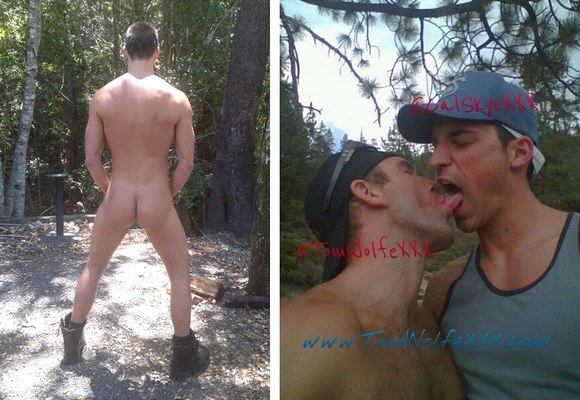 What are the porn projects you are working on?
In July, Tom and I shot for Raging Stallion for the big movie of the year that was directed by Tony DiMarco. That movie will release sometime this fall. I recently wrapped up my first fetish film with Fetish Force directed by Tony Buff.
Could you tell us about the scene with your boyfriend Tom Wolfe for Fetish Force? Any funny behind the scenes story?
Tony has an amazing plot for this shoot; Tom and I were the "Push" part of the movie, involving a lot of pushing, tit torture, spitting and rimming. The only funny thing that had happened during this shoot was an incident on set that wasn't exactly funny until afterwards; when we were all able to sit down and joke about what actually happened. Tony's cat was on set and did not like the extra company and the added heat from the lights, so he held himself up in a bed room while we were shooting. Ultimately not being thrilled he attacked one of the men on crew that was trying to calm him down. Being a typical cat the fight was on. As we were filming we heard the most horrendous noises coming from that room. Which made it very interesting to hear while getting fucked on set, Tom and I looked at each other extremely puzzled nearly afraid to laugh.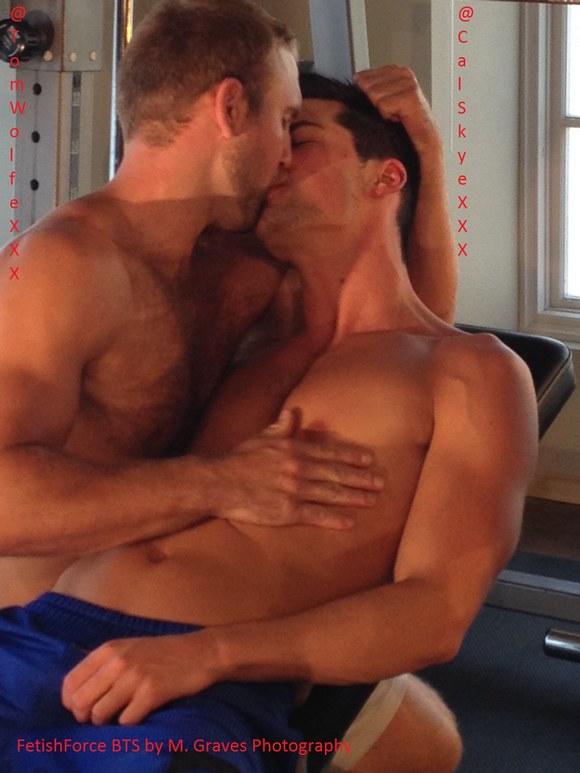 Is it different from your first impression with porn 5 years ago?
I feel like now returning 5 years later I have a little more age and life experience under my belt; Giving me a broader understanding of life in general. I know that the industry has changed a lot since I last filmed however, I still feel like I am picking up where I left off when I was a Falcon Exclusive. Even though I am no longer an Exclusive, I still returned to the industry with the same company I started with.
Name 5 porn stars you want to work with and possibly directors if you had the opportunity
Five porn stars I would love to work with include Fabio Stallone, Paul Wagner, Liam Magnuson, Zeb Atlas and Bryce Star. I would love to be directed by Steve Cruz and the legendary ChiChi LaRue.
What's next for Cal Skye?
Well I guess you will just have to ask my Daddy Tom to see what he has in store for me;) Frankly, I am just taking one day at a time living life and making the best of it. At the moment I am enjoying the relationship I have working with Falcon and Raging Stallion Studios although I invite any offers that could enhance my career, with the help of my wonderful fans by taking it to a new and exciting level.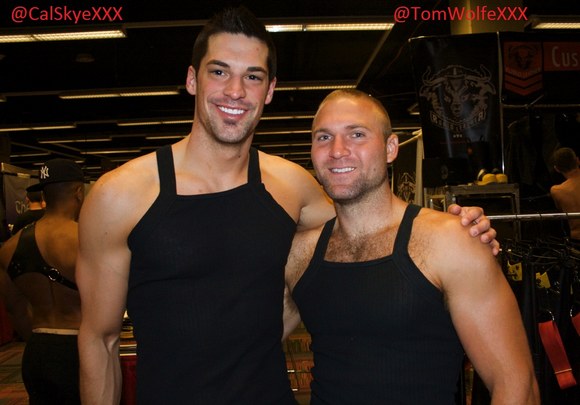 Thank you so much for your interest in me and asking for an interview. I am very excited to be back involved in the industry. I am very thankful for my warm welcome from the studios and all of the support from all of you worldwide. I look forward to helping create the ultimate fantasy for your viewing pleasure.
+ Cal Skye (@CalSkyeXXX) | Tom Wolfe (@TomWolfeXXX)