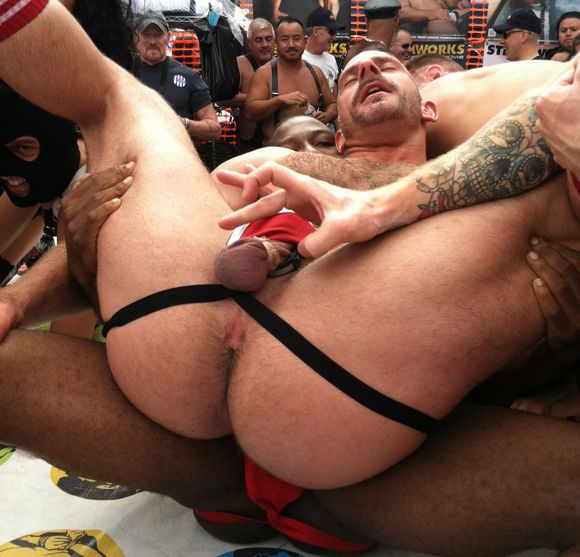 As I usually do every year, below are my list of links to hardcore photos and videos from FOLSOM STREET FAIR 2011 held is San Francisco last weekend. You can see many hot gay porn stars at NAKEDSWORD, NEXT DOOR STUDIOS, TITAN, BOUNDJOCKS, KINK booths etc.
My favorite picture is the one above, Samuel Colt playing Naked Twister from Tamara's Guiltily Pleasured blog.

The men of TITAN press the flesh with their fans.

BOUNDJOCKS.COM Booth at This Year's Folsom Street Fair – Knotty Brent ties up Casey Williams as Nate Karlton meets and greets the onlookers.

Making Porn Movie during Folsom Fair-2011 [via Dudetube]

FOLSOM STREET FAIR with Gay Club TV 2011.

Folsom Fair -2011- Pics and Clips [sfnastyboy]
FOLSOM STREET FAIR 2011 Photos
+ Folsom Street Fair 2011 | Falcon/Raging Stallion Party at Mezzanine [Tball]
+ Raging Stallion / Falcon Man of the Year Party | Gus Presents NakedSword's Ringmaster | NakedSword's Ringmaster – People [Marques Daniels Photography]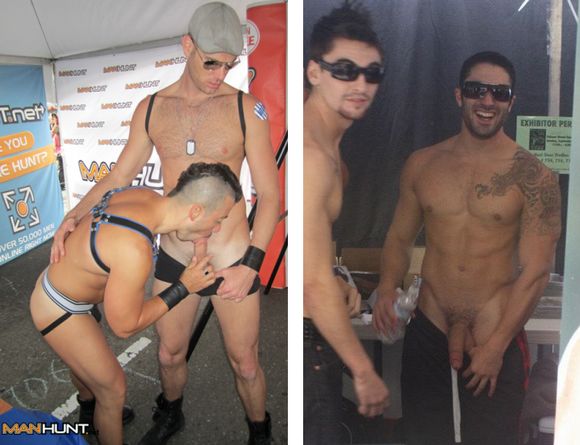 + Samuel Colt Wins at Naked Twister At Folsom Street Fair [Guiltily Pleasured]
+ OH HAI FOLSOM | Naked Sword's Ringmasters [Rolling Blackouts]
+ Playspace Grand Opening | More Playspace Highlights [Work in Progress]
+ Porn Stars at Folsom 2011 [Queer Porn Nation]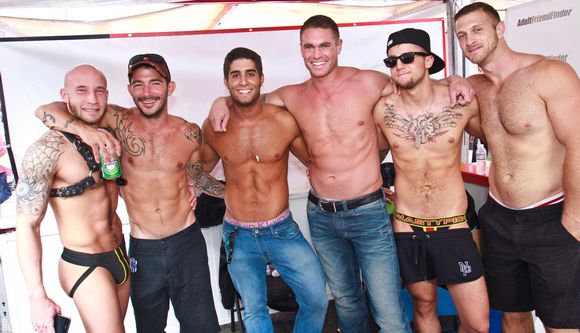 + Folsom Street Fair: The Pics We Couldn't Post Anywhere Else | San Francisco, CA – Folsom Street Fair 2011 [Man Hunt]
+ Treasure Island Media Vs. Folsom Street Fair | At Least One Folsom Picture That Isn't Nauseating [The Sword]
+ Folsom Street Fair 2011 – What Happened To You? [Gay Porn Dirt]
+ Folsom Street Fair 2011, in Pictures [Le Fag]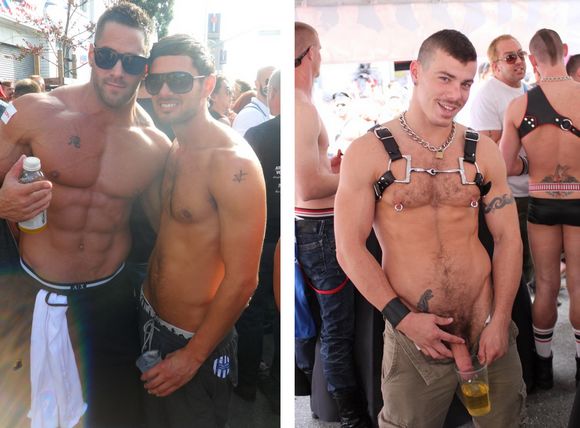 + Oops I Only Took One Photo At The Folsom Street Fair [Gay Porn Blog]
+ Folsom Madness | More Folsom Madness [Dean Monroe]
+ Folsom 2011 (#1) | Folsom 2011 (#2) [Richard's Facebook]
+ Folsom Fair, iPhones and The Heart Lock [Jeremy Feist]