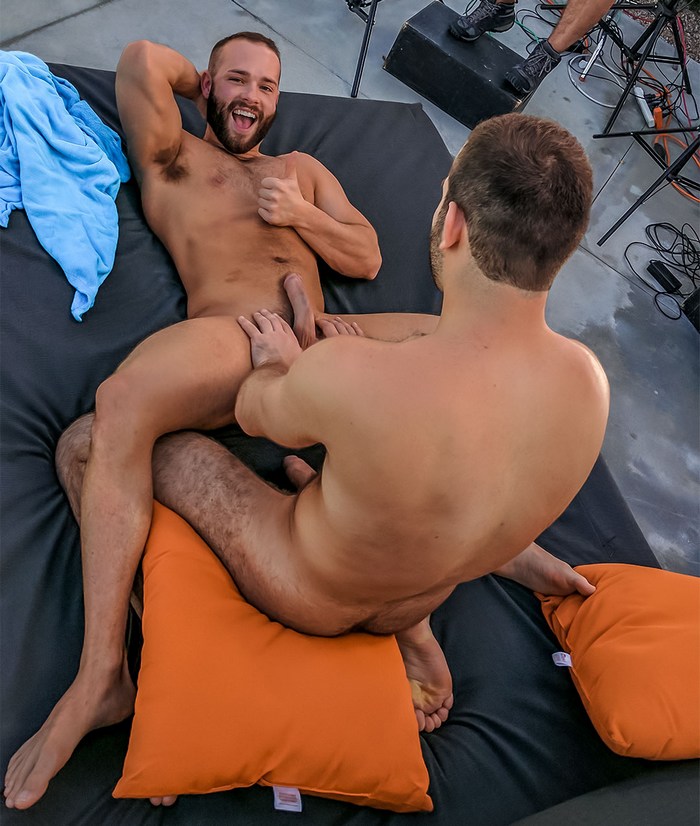 Now that we saw gay porn star Luke Adams playing the Sex Position Challenge game with Eddy CeeTee yesterday, now it's time to watch this super cute guy in action. He stars in the final scene from TitanMen's gay porn movie SWAP. Check out some behind the scenes pictures from this scene Luke Adams gets fucked by Adam Thicke below.
Luke Adams Gets Fucked By Adam Thicke in SWAP @LukeAdamsXXX @AdamThickexxx @TitanMen @doctorjasun

MORE ? (https://t.co/fAtwyco4sg) pic.twitter.com/naesfWN2UA

— Queer Me Now (@QueerMeNow) August 23, 2017
Stroking his cock, Adam Thicke gets distracted by smooth Luke Adams and joins him in the pool. Luke wraps his legs around the hairy stud, the two kissing before hopping out—Adam's thick, uncut piece dripping wet. "You're such a tease," smiles Adam as Luke shows off his backside, tempting his host. Luke feasts on Adam's pole, sliding his tongue under the foreskin. Luke beats it on his beard, deep throating Adam before straddling his chest—his smooth ass sliding against Adam's shaft. Luke fucks Adam's face, the sucker pinned against the pillow. He slaps his dick on Adam's tongue, then feeds him his smooth sac. Adam munches on Luke's hole, then takes him inside to feed him again—slapping his ass red as he fucks him doggie style. Luke sits on Adam, his own boner slamming up against his abs. The top gets Luke on his back, fucking the cum out of him before dousing his chest—Luke licking a drop off his thumb before feeding it to the top.