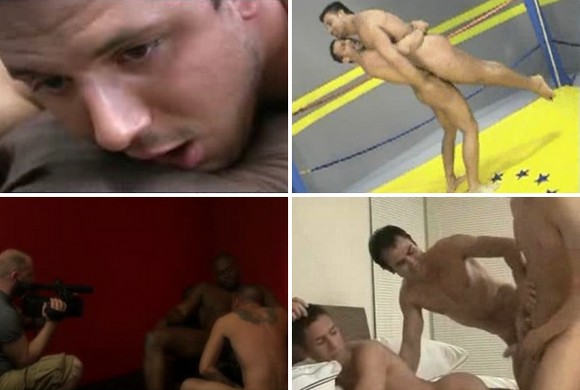 I found many behind the scenes and outtakes videos I hope you will enjoy. Some clips are very funny. My favorite one is Pat Bateman's first time bottoming scene. It's exactly what I expected from BTS porn, some BTS videos focus too much on B-roll and what the cast do off the camera but this one documented what REALLY happened right during the ANAL SEX SCENE, good job! But on the down side, it shows us that Pat Bateman is such a talkative drama queen 🙁 IMHO.
Another video I like is from the set of WRESTLEHARD.COM which show us the funny and adorable side of porn star Julian Vincenzo.
Pat Bateman Gets Fucked – Out Takes! A very funny footage from the porn shoot! See how Jake Crusie convinced his models. But I think Pat Bateman is a bit of a puss, he's HOT but he needs to STFU a bit and just take it.WRESTLEHARD.COM presents Behind the scenes with Superstar Julian Vincenzo. Interviews, funny moments, wrestling and masturbation with the fan favourite.On the set of RED LIGHT (the follow up to BLUE MOVIE) with Diesel Washington, Tristan Matthews and director Steve Cruz.

Cocksure Men's Summer Orgy Out Take Reel: When you have 7 men who all love to hang out and have fun, shooting a porn movie can be a bit rough.Outtake featuring Brad and Kurt Wild from College Dudes 24/7. It seems the boys got really into it… So into it they broke the bed and kept right on fucking!Outtake from Jet Set Men's hit, Big Dick Society.Matthew Rush on the set of ONTHEHUNT.COM

Jeremy Hall "helping" models on the set of ONTHEHUNT.COM