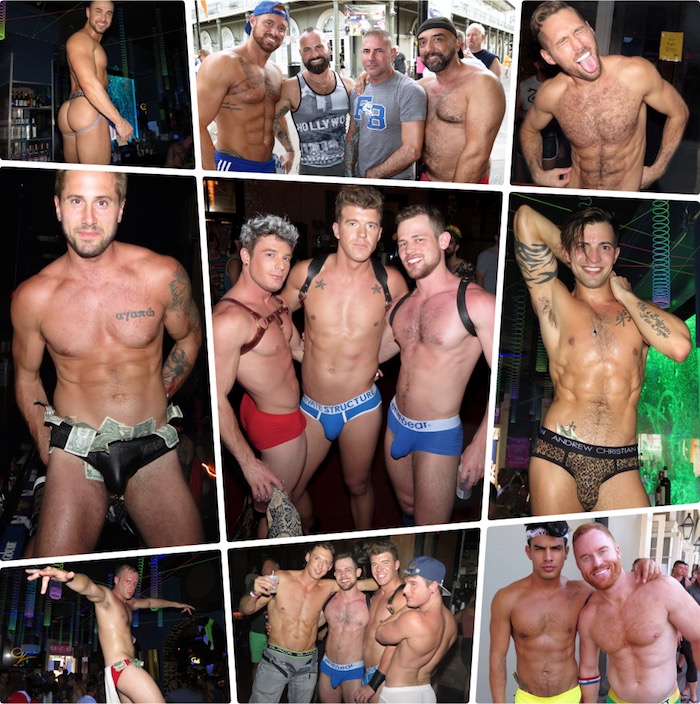 Southern Decadence 2017 (aka Gay Mardi Gras) was took place in the French Quarter of New Orleans during the Labor Day weekend this year. And thanks to Queer Me Now's collaborator @philliyT, here's exclusive pictures of gay porn stars Brent Corrigan, JJ Knight, Wesley Woods, and Kurtis Wolfe entertained the crowd at Chi Chi LaRue's opening party held at Mother Tuckers Lounge. Along with many pictures of shirtless gay porn stars like Michael Roman, Seth Santoro, Leo Forte, Sean Duran, Casey Everett, Dominic Pacifico, Leo Fuentes, Josh Conners, upcoming gay porn star Ziggy Banks, and more during Southern Decadence 2017.
MOTHER TRUCKER LOUNGE
Southern Decadence weekend in New Orleans- Falcon Studios & Chi Chi LaRue hosted a party for the release of its new movie Route 69, that also served as the grand opening of a new club in New Orleans, Mother Tucker's Lounge. Besides hosting the night, Chi Chi was also the nights dj. Brent Corrigan, JJ Knight, Kurtis Wolfe, & Wesley Woods were the featured stars for the evening. Also making an appearance were Seth Santoro and Pierce Paris.
SOUTHERN DECADENCE 2017