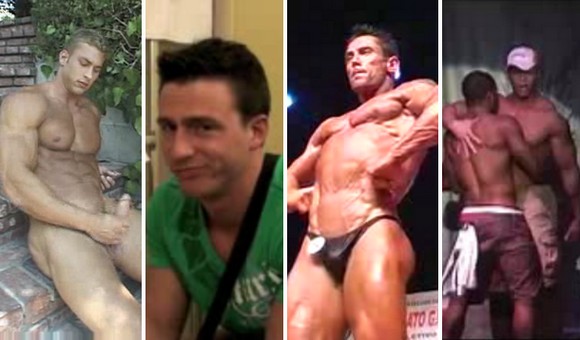 In this edition of Gay Porn Stars' Video Update: Never before seen footage of late Jet Set porn star Brett Mycles, Behind the scenes from Randy Blue, Kai Ford gets a tattoo in Thailand, Carlos Montenegro as bodybuilder, Matthew Rush and Eddie Diaz Live Show, even more wacky videos from Reese Rideout and more.
Behind the scenes preview of a much longer feature that will be on the upcoming release Brett Mycles: Unseen. The DVD includes NEVER BEFORE SEEN FOOTAGE of Brett Mycles the most famous guy to ever do gay porn and hands down the best male body ever to be photographed.Jet Set Men Presents Brett Mycles UNSEEN, never before seen footage of the legendary muscle stud from each and every movie he appeared in for Jet Set Men.Ace Hanson aka Eric Reins wrestling bodybuilder challenge

+ Watch Ace Hanson bottoms for Kane O'Farrell / Flip fuck with Alex Fuerte

2 wacky videos from Reese Rideout, Vegas kraves Reese Rideout

Hidden Camera Catches Improper Toilet Etiquette

Malachi Marx fucks a guy for the first time in this video with Vincent DeSalvo for RANDYBLUE.COM. Vincent is ADORABLE.

Gay Porn Stars Eddie Diaz and Matthew Rush Live Show

Kristen Bjorn model Carlos Montenegro as professional bodybuilder

Kristen Bjorn model Carlos Montenegro as fashion model

+ Watch Carlos Montenegro in Bang Bang Boys website, El Rancho, Action! and more.
I found this video via The Sword. Porn pup Kai Ford gets a Bamboo Tattoo in Koh Tao, Thailand.
FYI, that tattoo is Thai language pronounce "Pra Ar Thit Kuen" which mean "Sunrise".

Javier Datiz Sexy bodybuilder

With the Porn Stars – part 4 with Tommy Anders & Dustin Revees

Disco Dollie is at the Adult Video Expo in Las Vegas, interviewing gay porn stars from Helix Studios.

Visconti Triplets