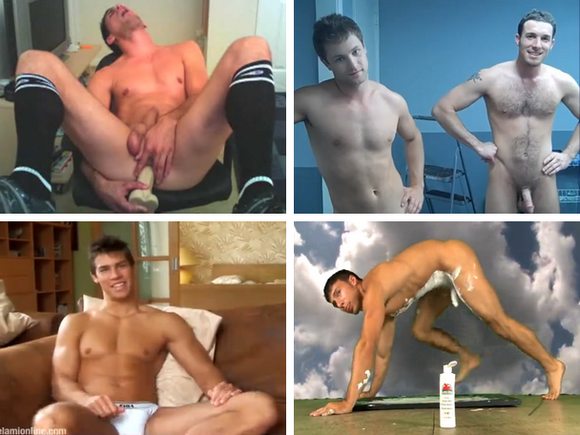 In this edition of Gay Porn Stars Video Update: Interview with Kris Evans, Steven Daigle and Logan McCree, Gunner Pierce at Splash Bar, Harry Louis at Madrid Pride, Brent Corrigan discusses his new projects, Hot Boy Luke fucks himself with a dildo, and more.

Gunner Pierce at Splash Bar June 2010.Interview with Bel Ami model Kris Evans.

Eric Pryor and Jonathan Bartell got along really well together on RANDY BLUE set.

Lucas Entertainment presents a bare and bold interview where no topic is off limits. Steven Daigle talks candidly with Michael Lucas about breaking down while filming CBS' Big Brother, the tragic and sudden death of his boyfriend, losing his family, being put under a microscope by the gay community and stepping back into spotlight to star in porn. [Watch Part 2 / Part 3]

Hot Boy Luke Soccer Themed Webcam Show.

Brent Corrigan – Movie Premieres, Auditions & Sunburns… Wait! Brothers of The Blood?

Harry Louis and friends at Madrid Pride 2010.Reese Rideout's Video Body Art.

Têtu interviews with Logan McCree.

Shut Up, Jasun: Porno Gaydar Edition.

Quick French Recipe with Chef Emmanuel aka straight porn star Jean Val Jean.Anderson Fox Fucks Martin Passoli in Auditions 34: International Studs.