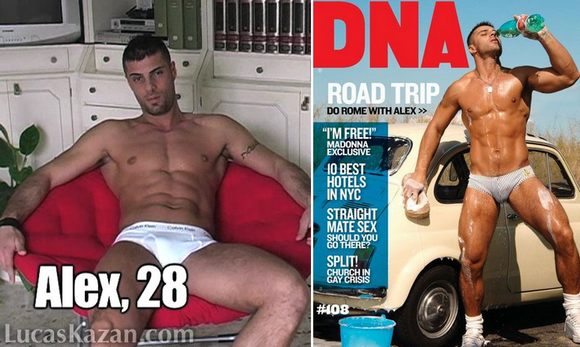 Eagle-eyed reporter JC Adams of Gay Porn Times recognized DNA magazine's latest cover model ALEX MARTE as one of the contestant in Lucas Kazan's Open Casting Call in Rome last year. Italian & Other Strangers porn star BRUNO BONI was the winner of that competition but you can watch video preview of Alex's audition below.
Well, it's not the first time gay porn star on the cover of DNA mag, I know. Randy Blue model Chris Rockway was on the cover of this magazine last year.
"I've done everything else," says 28 year old Alex, "Stripping, sex shows, orgies. I'd like to give porn a try now." A full-time personal trainer and part-time stripper, Alex is openly gay and is blessed with a gorgeous Mediterranean face, a ripped body and a bubble butt to die for. "Many crave it, few have had it," he says.