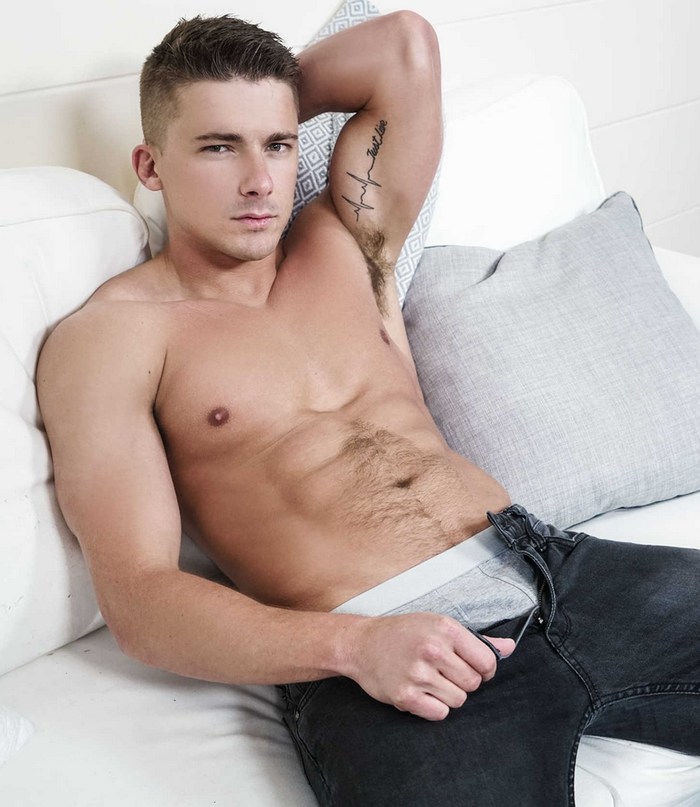 Jake Porter started his porn career getting fucked by Sean Cody's popular gay porn star Stu back in 2014. Now after more than 3 years in adult industry, He recently switched to Men.com. He starred in Right In Front of My Salad which goes viral. If you are a fan of this hot gay porn star, check out Queer Me Now's exclusive interview with Jake Porter below.
Gay Porn Star Jake Porter Interview
Please introduce yourself
Hey there! I am 29 years old, and I am from Southeast Missouri! I am also a full-time model for Andrew Christian underwear, A part-time DJ for the last six years, and a freelance personal trainer.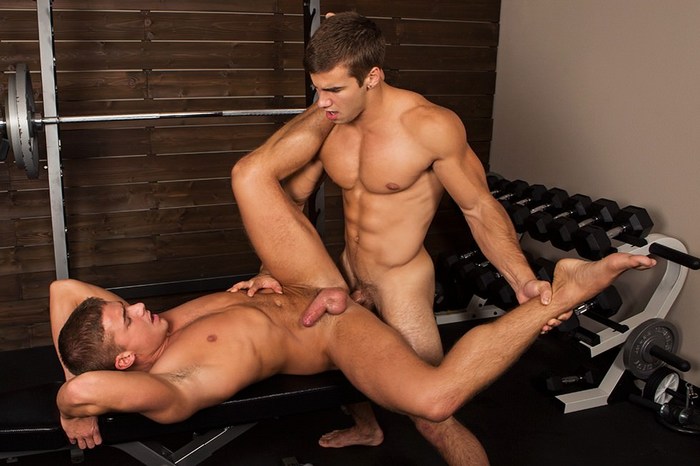 How did you start in gay porn with Sean Cody?
Sean Cody actually came to me, I had no aspirations to be in porn. In fact they came to me multiple times through a headhunter agency before I had came out and I declined. I suppose the last time they contacted me their timing was right and I agreed to do a solo shoot, and the rest is, as they say history!
How did you come up with your porn name?
The former top brass at Sean Cody came up with the name "Porter" I had nothing to do with it. I actually never liked it. But I suppose it has grown on me over the years!
How many scenes have you shot for Sean Cody and who's your favorite scene partner?
Honestly I never kept track of the actual number of scenes! I believe it was somewhere around 26 maybe, give or take a few. If I had to pick a favorite scene partner, it would be a tie between Blake and Jayden. I was friends with both of them for many years while working for the company, and they are both just consummate professionals. The threesome that we filmed together was a breeze hands-down easily the best scene I have ever filmed. Between the three of us we had a staggering amount of experience so everything was perfect.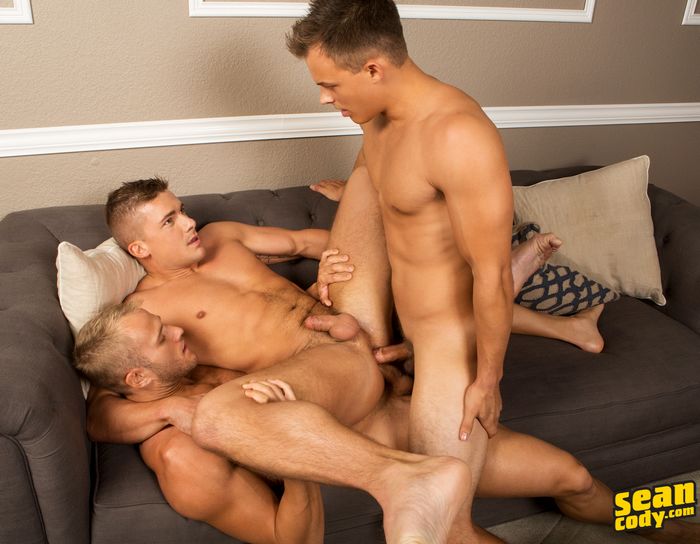 How was it like, what went through your head the first time you have sex in front of camera?
I've always had a very "this is work" mindset when it comes to porn. For me it's not a sexual experience it's about creating a quality product for the people who demand it. So I've always been the one on set that just absorbs all the instruction and tries to deliver the best performance possible to make sure the fans are satisfied with what they're paying for. After all without the fans none of us exist! It's not all that different from Hollywood as an actor in a porn film, your job is to deliver and from day one that has been the only thing on my mind.
Any funny or memorable stories that happened behind the scenes of Sean Cody?
I jokingly refer to Sean Cody as the "secret society" of porn. To the point where I used to actually deny that I was "Porter" obviously these denials were heavily sarcastic and very tongue-in-cheek but they still stirred up quite the uproar with people on social media. But in the old days that is how Sean Cody was, it was like fight club, you just did not talk about it! If I had to choose a favorite moment from Sean Cody however, it would be during my scene with "Dean" when out of nowhere I shouted "God bless America" and we just kept going! I think it made it into the outtakes of the film!
How was it like filming a big group scene in Winter Getaway?
One word… hectic! That scene lasted from sunup to sundown and we watched the sunrise again the next morning! I don't think any of us will ever be the same after that one! Trying to corral nine guys on one porn set, nine dueling egos, with nine different boners is kind of like herding cats.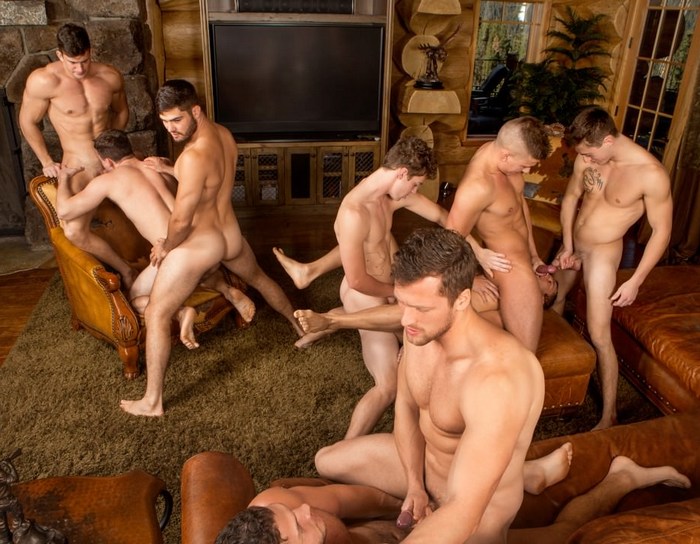 What's the most difficult aspect of being a gay porn star?
Hands-down the most difficult part of being a gay porn star is dating! I've dated industry guys (a few that all of you know and love) and I've dated normal guys. What makes it difficult is I'm not into the "open relationship" kind of thing. If I'm dating another porn star work is work so we both know what each other are doing. But sometimes it's hard to convey that porn is not sex, it's work when dating a regular guy that's not in the industry. Obviously it's a little unnatural to allow your boyfriend to go off and sleep with someone else. While you're in a monogamous relationship.
Please tell us more about working as an underwear model for Andrew Christian
Andrew Christian is great! It's a great company that has allowed me to be exposed to the world and travel the world at the same time! I've been with Andrew Christian for about 3 1/2 years I believe. In fact I think I was one of the last guys signed without having to win a contest. So that makes it cool that I stood out enough and they liked me enough that they put all their eggs in to the "Jacob basket" and there was no fan voting required. But like I said they're a great company very supportive and they've stood behind me when other media sources have published libelous nonsense about me in the name of clicks! So I am eternally grateful to Andrew, and the Andrew Christian family!
I remember seeing a video on YouTube of you coming out as "bi" Do you still consider yourself bisexual?
Well here's the thing, I get asked about this a lot. In the YouTube video that I made before the porn industry when I came out I did say I was "Bi" however I said that solely for the purpose of not causing confusion. I knew I was gay when I was 11 years old. But I dated girls for 15 years even had long-term relationships. But those relationships were all soulless and they all lacked passion. Because I was not capable of loving them in a romantic way I loved that they loved me and I love them as a friend or platonically but it was never real. With that being said, I am 100% gay. I am not nor have I ever been bisexual. I realize the confusion that the YouTube video has caused but I was merely a closeted gay man having sex with women I was not a bisexual man at any point. That wording was for the benefit of others.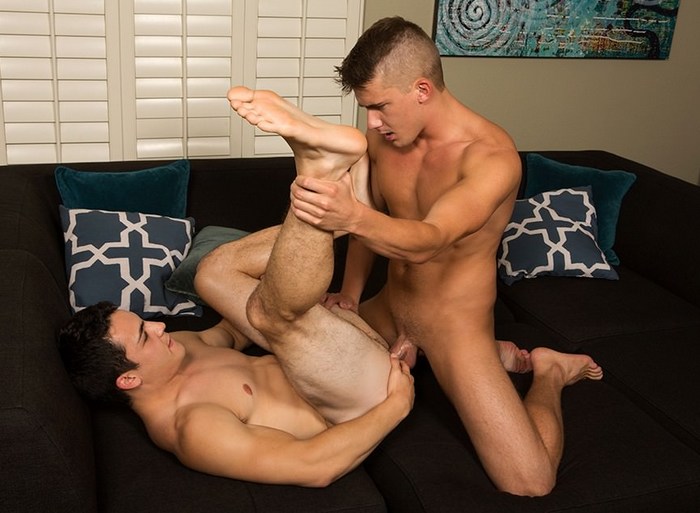 In private life, do you prefer to top, bottom or versatile?
I am mostly a top in my personal life, but I would call myself 100% versatile. Facts are I don't like sexual relationships that have established roles. I think a healthy sexual relationship is one where nothing is off-limits on either side.
What's your favorite sex position?
I'm a passionate person and I really love to kiss. So my favorite would be some form of missionary where I can be kissing my partner constantly and looking into their eyes. Sex is not just an act it's an emotional experience and I think it's important to have eye contact with your partner as you both experience it!
Where's the craziest place you ever have sex?
Elevators, public restrooms, movie theaters, in the woods, department stores, The list goes on and on. I would say the backseat of the limo driving around downtown St. Louis takes the cake though! "Driver, roll up the partition please."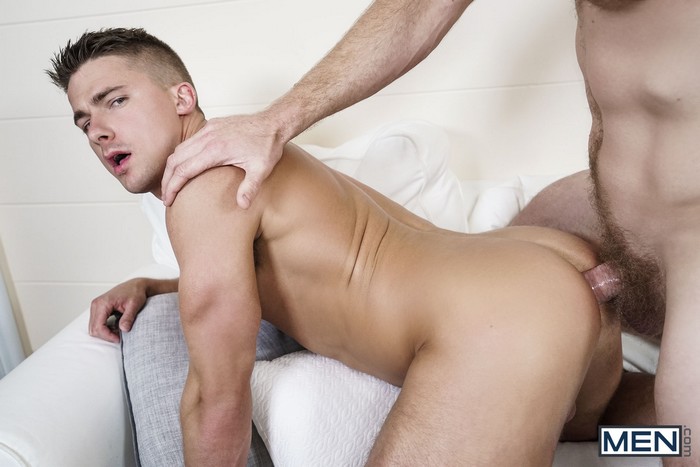 What kind of porn do you like to watch?
Real stuff, amateur stuff, like Web Cams. Being an industry veteran at this point I cannot watch produced pornography. I find myself critiquing it and trying to figure out just exactly where the scenes were spliced together. I'm very critical so I enjoy real stuff not actors.
Have you got recognized by fans in public a lot? Any memorable encounter with fans?
Traveling North America with Andrew Christian has given me the opportunity to be seen by many many fans. So I've had the pleasure of meeting hundreds of thousands of people most likely! My favorite experience would be on a promotional trip with Andrew Christian in Mexico City. We had an autograph signing at a local mall? and you would've thought Justin Bieber was there… we signed autographs and took photos for hours it was amazing and a humbling experience.
Are there any different between working with Sean Cody and Men.com production team?
I would say it is a night and day difference. Now that's not casting any negativity towards either company. What I mean simply, all porn and producers have a different style. A different method of creating their product. So there are vast differences when working with any producer some good some not as good. But with both companies I've had the pleasure of working with many very talented producers and videographers and I look forward to working with many many more.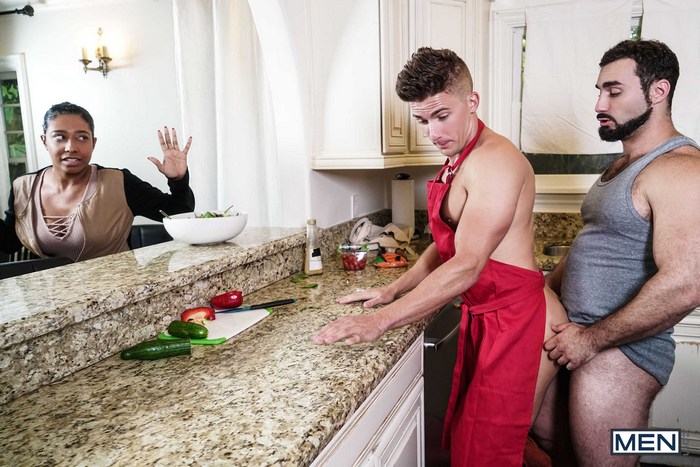 Please tell us more about shooting the now popular Right In Front of My Salad scene? Who come up with the idea? How was it like working with Jaxton Wheeler in this scene?
Well I don't know who came up with the idea, I'm assuming whoever writes the scripts at Men.com! Honestly it was kind of like any other scene, Jaxton was a cool guy very easy to work with, I had worked with that specific producer a few times before also so it was a breeze to film. Nikki was an absolute sweetheart, Great comedic timing, and very cool to have on set! Honestly the scene had been out for almost a month before the memes started blowing up and it began to trend on Twitter. So based solely off of that fact I was kind of shocked and surprised! I guess it was a great way to get my name out there shortly after switching companies! We definitely made salad mainstream again!
Name 3 porn stars you like to work with next.
Well I hope Men.com is listening! I want!
Angel Cruz
Mickey Taylor
Frankie V
No specific order!
What's next for Jake Porter?
Who knows! If there's one thing for sure about Jake Porter, nothing's for sure!
+ More of Jake Porter