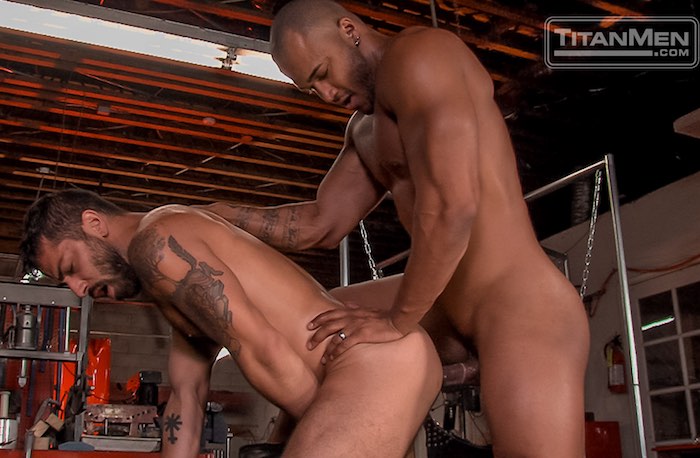 TitanMen gets a little kinky with its new gay porn movie SLING. This first scene shows musclebound Jason Vario fucks Adam Ramzi.
Jason Vario Fucks Adam Ramzi in TitanMen SLING #GayPorn @TitanMen @doctorjasun @JasonVarioXXX @adamramzixxx

MORE??https://t.co/pIOa69N3ON?? pic.twitter.com/WRk4pmvgp0

— Queer Me Now (@QueerMeNow) May 17, 2017
Adam Ramzi has a package for warehouse stud Jason Vario, who tells the deliveryman that they make play gear. ìLike for playgrounds?î asks Adam. ìNo,î laughs Jason, leading him to a sling. ìThink a little more adult.î Jason deep throats Adamís uncut cock, which bursts out of his uniform. Adam bends over for a kiss, beating the suckerís pecs with his dick. Jason slides off his overalls to release his monster, Adam gasping for breath as he worships it. Jason whips it on the suckerís face, Adam slapping Jasonís huge pecs. Adam sits on a rim seat, their cocks rock hard as Jason tongues the quivering studís hole. Adam sucks Jason as he gets eaten, then gets on all fours. Jason wraps his arm around the bottom, who grips it as he gets plowed (ìItís so fucking big!î). Adam straddles the sling as he gets it doggie style, then gets on his backóhis cock bouncing as Jason thrusts inside him. Jason jacks Adamís load out, then spurts on the bottomís beard.