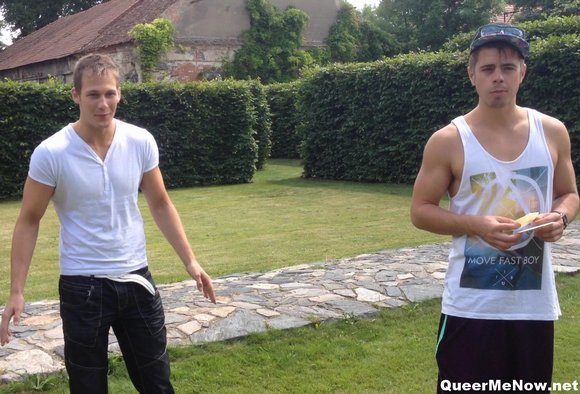 NAKEDSWORD.COM has launched the website DirtyRascalsTheMovie.com for their upcoming big budget porn movie filmed in Czech Republic DIRTY RASCALS. This movie features tons of hot porn models from BELAMIONLINE.COM.
I've brought you guys the daily reports from the set in Prague last month – Dirty Rascals Exclusive Reports: Day 1 | Day 2 | Day 3 | Day 4 | Day 5. I had so much fun hanging out with these models and crews in Prague. Now that the release of the movie is coming, I think it's time for me to stop being lazy and start editing and uploading funny video clips I took from the set.
Let's start with this video. It's from my last day of the shoot. From the facial expressions of Bel Ami models Marcel Gassion and Phillipe Gaudin in the picture above, can you guess what happened? (The video also features legendary porn star Lukas Ridgeston)
[Shameless plug] The behind the scenes video I did from the set of Original Sinners movie shot in Costa Rica a couple of years ago [Original Sinners – Gay Porn Outtakes] is reaching 300,000 views on Youtube now. WOW!