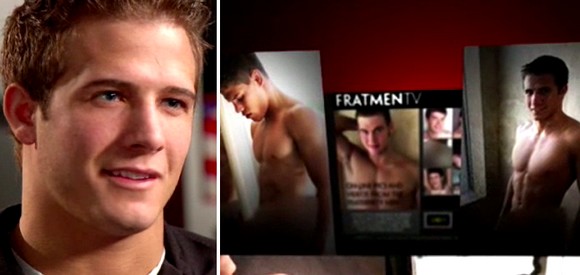 I found this latest news about two former Nebraska wrestlers Paul Donahoe and Kenny Jordan on Outsports website via Butch Harris' tweet. I used to posted about this story last August. And now EPSN's Outside the Lines show addresses the dismissal of Paul Donahoe and Kenny Jordan after they appeared nude on FRATMEN.TV, a gay porn site, as Fratmen Nash and Fratmen Cal (please read this Outsports archive).
Last month, there's another topic regarding this HOT jock Paul Donahoe or Fratmen Nash discussed on Just Us Boys Forum after the schedule for Live Show on Fratmen TV showed Nash as one of the Fratmen again!
But Fratmen Nash or Paul had never showed up on Live Show. And then, Fratmen's Hostmaster John posted this message! Paul is indeed returning as fratmen Nash for some visits to Fratmen.TV LIVE! but we are postponing the first show and Paul is indeed being featured on the ESPN show "Outside the Lines" that was originally postponed from early May and is currently scheduled to air June 14th. He feels (and I agree) that it would be better to postpone his return Fratmen.TV LIVE! show until after the ESPN story airs to see how it all plays out.
The show airs Sunday June 14 at 9 a.m. EDT on ESPN and noon EDT on ESPN News. Looks like we have to wait and see whether Paul Donahoe will come back to Fratmen or not. Personally, I don't think he should risk his wrestling career again.
Oh, and did you see that shot of Fratmen website ESPN used? It shows a sizable image of Fratmen Max in the middle of Nash and Cal. I hope Max's family or friends won't recognize him or he could get into trouble too.
+ ESPN to tackle gay porn wrestling story
+ Videos: Paul Donahoe at NCAA tournament
+ FRATMEN.TV | Fratmen Nash and Fratmen Cal