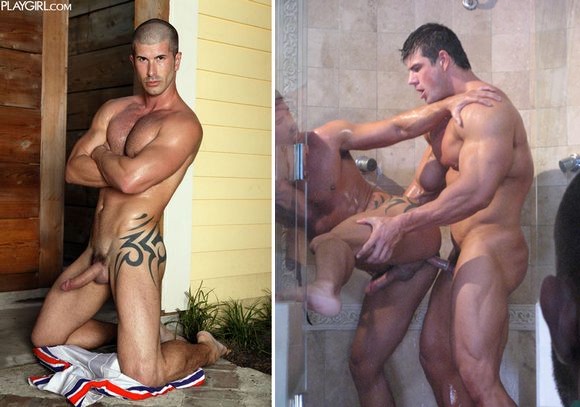 The Sword broke the story in their column "The Great Zeb Atlas Mystery Fuck: Who Got Lucky?" Zeb Atlas finally took the plunge — literally — and drove his thickness up a pair of warm and firm buns during the final scene of Falcon's upcoming movie, Best Men.
They didn't reveal who's the lucky bottom. But from his tattoo and one hint: though the playboy's posed nude before, it's his debut scene for anyone. Well, on-screen at least: he's been connected romantically with some of the hottest performers in the business. My best guess is Adam Killian who recently posed nude for Playgirl and worked behind the scenes in many porn production. The closest thing to sex we got from him was his appearance in Jet Set's award winning The Hole.
Adam is dating hot bodybuilder Mitchell Rock from ManifestMen.com. Check out his Bigmuscle profile (which linked together with Mitchell's) and Dudesnude profile to see he got more tattoo on his right chest as in The Sword's picture.