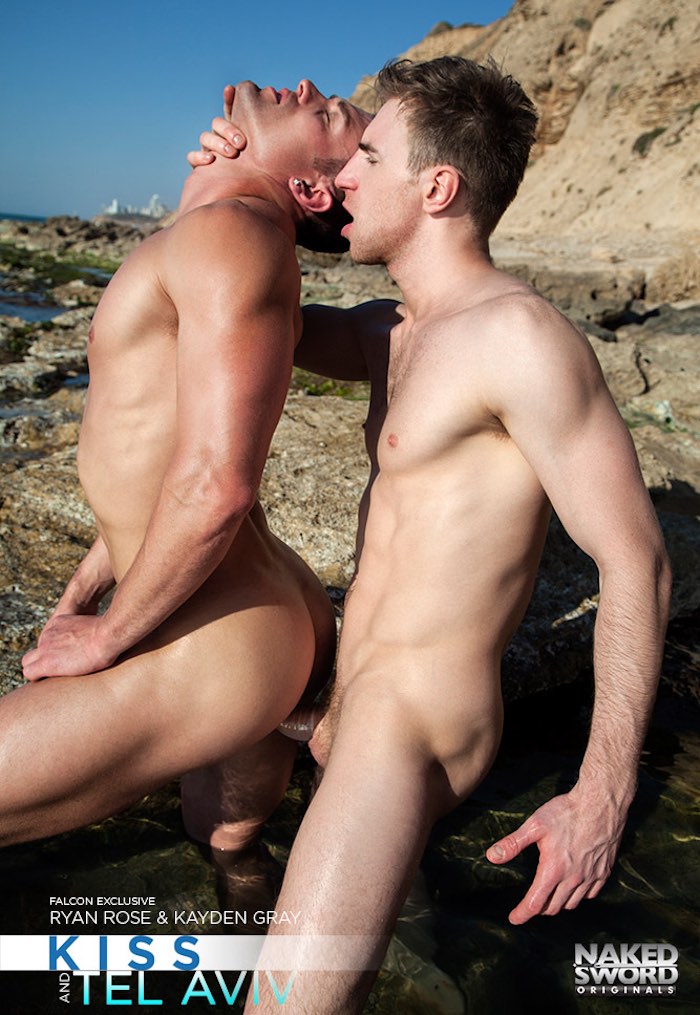 As I reported here earlier, director mr. Pam was shooting gay porn in Israel a couple of months ago during the ever HustlaBall Tel Aviv. You can see behind the scenes pictures here and here. Nakedsword is about to released the first scene of its new porn series KISS AND TEL AVIV tomorrow. It features Falcon exclusive model Ryan Rose and hung British gay porn star Kayden Gray having sex on beautiful Gaash Beach.
Check out the XXX preview of this hot scene Ryan Rose gets fucked by Kayden Gray below.
Glorious clear blue skies and crashing waves are the perfect backdrops for Ryan Rose and Kayden Gray who decide that this Tel Aviv beach is clothing optional. After briefly sunning themselves they start to explore and find the perfect place out on the rocks to deep-throat each other's cocks. Kayden bends Ryan over to eat his ass then slams his cock inside and pounds him hard. Ryan pushed Kayden back into the surf so he can ride his cock until he cums. Ready to bust, Kayden stands up and jerks off, shooting his load into the Mediterranean.
+ Ryan Rose Bottoms For Kayden Gray in KISSS AND TEL AVIV: Cock By The Ocean