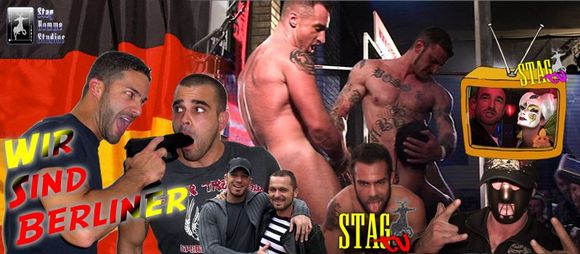 In the latest update, Damien Crosse and Francesco D'Macho take us backstage to the Hustaball party in Berlin and filming their XXX-feature for STAGHOMME.COM. There are so many gay porn stars in these videos; Ricky Sinz, Ross Hurston, Steve Cruz, Darius Falke, Pistol Pete and even Visconti Triplets!
Stag TV takes you to the land of beer, sausages and Darius Falke. But there's a lot more Hustlaball than Oktoberfest going on here. We'll take you backstage to the filming of our XXX-Feature "Armed" starring Pistol Pete as well as backstage to the legendary Hustlaball party. This episode features a filthy erotic performance between Ricky Sinz, Ross Hurston and Steve Cruz as well as appearances by loads more of familiar faces. Stag TV is your VIP access.
Stag TV – Episode Four: Wir Sind Berliner
[flv:http://www.staghomme.com/stag_previews/berlin/berlin_trailer.flv http://www.queermenow.net/blog/wp-content/uploads/2008/11/damiensuckricky.jpg 580 326]
Here's your chance to cuddle in bed with the world's most adorable bear! Get to know a little better multi-award winning performer and soon to be award winning director Steve Cruz. He's starred in countless blockbusters such as Chi Chi LaRue's "Link: The Evolution", Raging Stallion's "Grunts" as well as his own "Hotter Than Hell". There's also quite a few other performers that try to steal the spotlight away from him during his interview.
Coffee With The Stars: Steve Cruz

+ Watch videos at STAGHOMME.COM