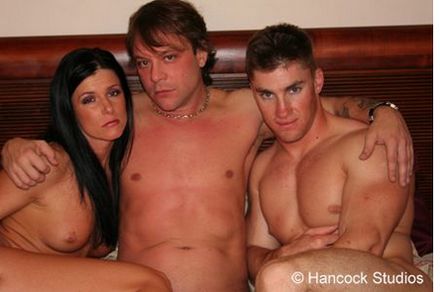 After stepping away from the spotlight last fall, three-time AVN award winner Kurt Lockwood has decided to "up the anty" for his fans and star in his first bisexual male scene titled "Kurt, Evan & India" for Hancock Studios. The video will be featured on Club Hancock, Hancock Studios' website offering straight, bisexual, dominatrix, tranny and fetish videos, due to go live in July, 2008. The scene "Kurt, Evan & India," was shot this month as part of a bisexual film, which is scheduled for release on DVD through Hancock Studios later this year.
Also appearing with Kurt Lockwood in the Hancock Studios release will be India Summer and Evan Grey. "It's a first for all three actors," says Hancock. "It's the first time that both Kurt and Evan receive anal from another male on film, and it's also the first time that India has appeared in a bisexual male film. We're thrilled to bring this highly anticipated scene to fans world-wide."
[NOTE: Evan Grey did a Solo scene for RANDYBLUE.COM (trailer after the jump) and stars in Overtime, a new movie by Falcon Studios fucking Tory Mason. He's named Hayden Stephens by Falcon.]
· Watch Overtime trailer & photo gallery
"Kurt Lockwood is really the poster child for what Hancock Studios is all about – No Boundaries," says Mike Hancock, the producer/director/owner of Hancock Studios. "Our main focus has been on producing videos showing male sexuality in its many facets. Whether Kurt Lockwood is starring in a straight video with Gwen Diamond, a strap-on scene with Sandra Romain, or a Tranny video with Yasmin Lee, he always brings the same intensity to his work. It's that quality that makes him a perfect match for Hancock Studios, and I couldn't be more pleased to have the opportunity to release his first bisexual video."
In an industry that is very rigid when it comes to male performers crossing sexual boundaries, Hancock Studios embraces the "blurring of the lines," says Hancock. "In speaking with Kurt and other male porn stars, I've learned that most models bring a heightened sense of sexuality to the table when they joined the business. For many, there's a natural curiosity to go beyond the norm. With the advent of the internet, it is apparent that fans are hungry for content that reflects an evolving sexuality as well, and we want to be on the forefront of that frontier."
After filming Lockwood's solo video for Hancock Studios' Hancock Men (www.hancockmen.com), due to go live in June, 2008, Kurt Lockwood and Mike Hancock maintained a collaborative relationship that laid the groundwork for bringing the bisexual scene to fruition. According to Hancock, he and Kurt Lockwood kept in touch discussing potential projects that would allow Lockwood to explore any arena he wanted to. It was during this time that Lockwood got to know Hancock Studios as a company eager to push the sexual limits, and Mike Hancock as a director who shows compassion and respect for his models. Taking safe sex to the next level is only one of the ways Mike Hancock proves to models that he has their best interest at heart when it comes to working in an industry that he loves. In addition to requiring all models to AIM test, Hancock Studios also requires condoms in all sex scenes.
"As much as I am a firm supporter of AIM testing, it's not full proof in preventing the transmission of STDs. There's a window of time that models are sexually active in between tests that I worry about," says Hancock. "To narrow the margin, we also require models to wear condoms for all sex scenes, regardless of the genre. For me, a single piece of the puzzle is not good enough to complete the entire picture. For the safety of my models, both testing and condoms are required." It's this type of environment that keeps models coming back for repeat performances at Hancock Studios.
[source]