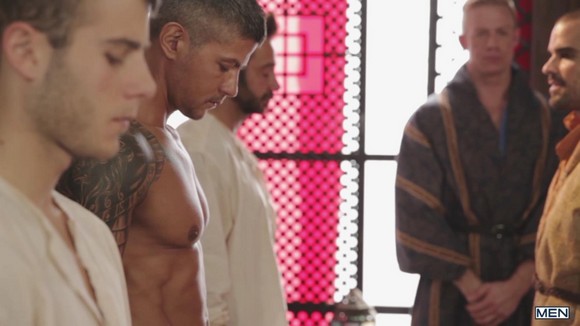 MEN.COM has just released preview videos of the upcoming scenes until July 18th including 3 preview videos from the GAY OF THRONES porn parody. Gay of Thrones is a 4 part series and now you can get your first look at 3 of the scenes.
Porn star Abraham Al Malek plays the role of Khal Drogo and in the first scene you can watch the "Dothraki" style outdoor gay sex with Abraham Al Malek fucking Toby Dutch.
Russian porn star Dato Foland doesn't play Daenerys, I was wrong about that. Dato plays Renly Baratheon and Paul Walker plays his lover Loras Tyrell. It's nice to see them recreate the porn version of that shaving scene. 😉 The scene Dato Foland and Paul Walker take turns fucking each other will be online July 11th.
Porn star Damien Crosse Plays Oberyn Martell in Gay of Thrones. Too bad they didn't recreate a rematch of Oberyn and Gregor Clegane (The Mountain). That would be epic! Alter Sin chose to recreate that scene in the brothel between Oberyn and Olyver played by Christopher Daniels. The scene Damien Crosse fucks Christopher Daniels will be released on July 18th.
Which characters do you want to see in the fourth episode of Gay of Thrones?