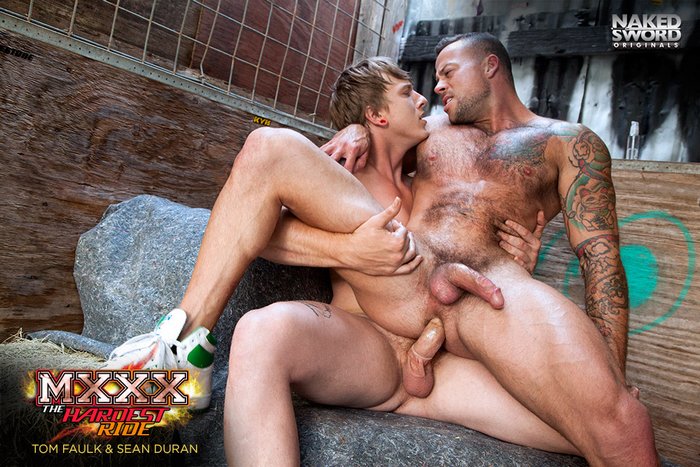 Nakedsword just released the first scene of its latest gay porn movie MXXX: The Hardest Ride filmed on location in Texas. It features a hot sex scene where hunky Sean Duran gets fucked by Tom Faulk.
Tom Faulk Fucks Sean Duran in MXXX The Hardest Ride @Naked_Sword @mrPam @TomFaulkXXX @SeanDuranXXX

MORE??https://t.co/dUz7dGb9PL?? pic.twitter.com/IUTBlo28Wm

— Queer Me Now (@QueerMeNow) June 19, 2017
There's nothing better than Texas BBQ, especially when it's served up by the motocross hunks out at Tom Faulk's place. Sean Duran arrives with his stripper girlfriend Ahslee (Axle Rose) and things start to go a little crazy. Shots of tequila lead to burnouts on the patio and an impromptu strip show that gives Tom an idea. He bets Sean he can fuck his girlfriend harder than he can and all three head to the moto-barn. Sean is all in for a tag-team but Ashlee flips the script… she wants to watch them get it on. Tom and Sean jokingly accept the challenge but it's clear a little peck on the lips isn't what Ashlee has in mind. Reluctantly they start to make out and jerk each other off. Horned up, Sean fucks Tom's face then gets on his knees to suck his buddy's dick. With his cock wet and hard Tom decides to give Ashlee what she really wants and slams his rock hard meat deep in Sean's muscular ass. They fuck hard until both guys blow their loads, leaving them both drained and a bit confused. What the fuck just happened?
+ Tom Faulk Fucks Sean Duran in MXXX: THE HARDEST RIDE
+ More of Tom Faulk | Sean Duran