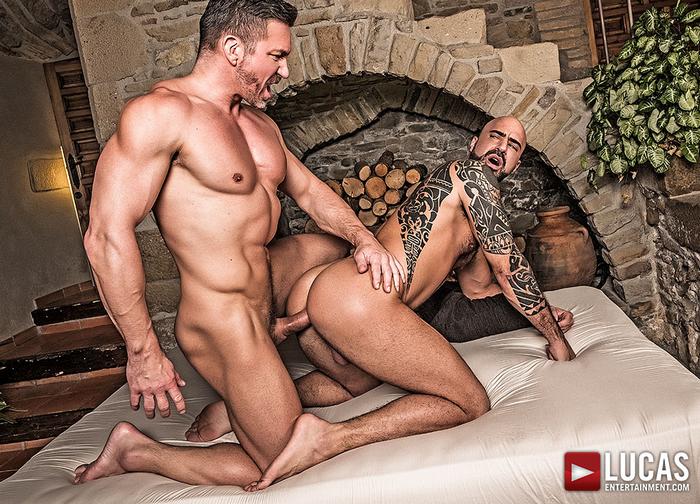 The last time we saw muscle daddy Tomas Brand in action was almost 8 months ago. This week he has returned to Lucas Entertainment in the new movie BAREBACK BOYFRIENDS & BROS with his real-life boyfriend Angelo Di Luca.
Check out the XXX trailer of this scene Tomas Brand fucks Angelo Di Luca bareback below.
The return of Tomas Brand to Lucas Entertainment has been a long time coming. He's the ultimate muscle daddy top in the gay porn industry (even if he bottoms once and awhile). He and his real-life boyfriend Angelo Di Luca (a sexy muscle bear) were invited to the set so they could give us a glimpse into their private sex life. A key observation is how much Angelo loves servicing Tomas' uncut cock: he takes great care while he's blowing his boyfriend, as you can see at 3:10. The second is that Angelo works hard to take Tomas' dick up his ass in as many different positions as possible, and he isn't shy about stopping during the middle of anal sex to suck on Tomas and lube up his dick with some spit. This guy likes the kink of ass-to-mouth!
+ Tomas Brand Breeds His Real-Life Boyfriend Angelo Di Luca
+ More of Tomas Brand | Angelo Di Luca