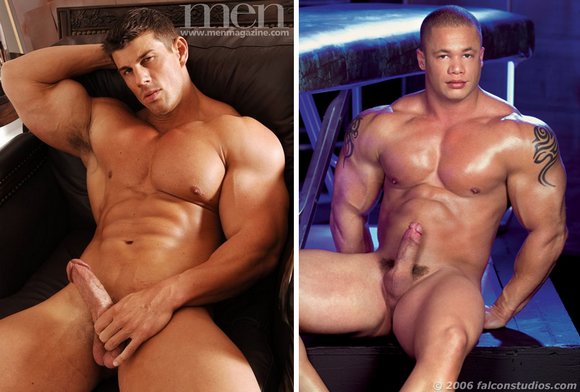 This news seems to be the most popular one during my vacation. But it's the obvious next step for Zeb Atlas after his gay oral sex debut with Jake Cruise and sex scene with his girlfriend.
Mike at The Sword broke the news on his website, Falcon To Remove Cum From Models' Mouths and Put Zeb Atlas In : The first beneficiary of the cum-free diet will be Matthew Rush, who will not be invited to eat gay-for-gray star Zeb Atlas's paycheck in their upcoming two-part marriage-themed production. The movie, the first to be shot after the departure of Montgomery, features Tony Capucci as a groom-to-be, and Matthew bottoming at a bachelor party for Zeb.
News of the Falcon deal was supposed to be under wraps, according to David Forest, Zeb's manager. But since the word was out, he reveals more detail about the project on XBIZ News article,
The scenes will appear in an yet-unnamed bachelor party-themed 2-disc feature. In the first scene, Atlas will be orally serviced by Falcon lifetime exclusive Matthew Rush and, in the second, Atlas will reciprocate the oral, as well as topping Rush.
"He is being paid what I used to get for Ryan Idol and Ken Ryker," Forest said, explaining that few present-day performers are paid the amounts that were offered for superstar performers in the '90s.
"Matthew Rush and Zeb Atlas are definitely two very powerful names in the gay adult industry, having them star alongside one another will be a lively topic of conversation for the many fans of porn" Prickett told XBIZ.
+ Read the whole article at XBIZ : Zeb Atlas Will Top in Falcon Movie.
Personally, I don't know why, but if this news broke last year, I would have been thrilled. Now? I think I lost the interest from all those Zeb Atlas Gay Sex rumors that never materialized.
Now, I have to wait to see if Zeb Atlas is a good ACTOR to make some Hot sex scene with Matthew Rush. That's what make a good porn for me, Hot Sex is far more important than hot actors making robotic sex. And please, Zeb, don't be the later. I hope you'll fuck Matthew's ass as hard as you fuck your girlfriend.
+ XXX Photos & Trailers of Matthew Rush's prior bottoming scenes in Taking Flight Part 2 and Heaven To Hell