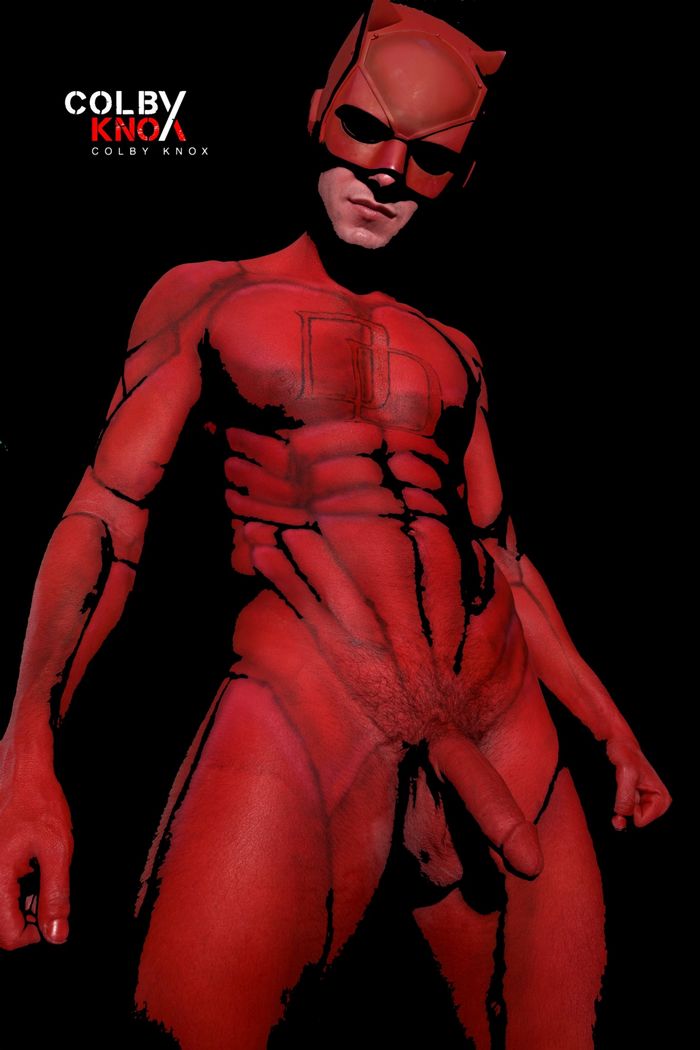 Cute porn couple Colby Chambers and Mickey Knox recently teased their fans of the upcoming Halloween scenes from COLBYKNOX.COM. From the behind the scenes pictures below, Colby Chambers plays Superman while his hot boyfriend Mickey Knox plays Daredevil in these upcoming Halloween scenes. But instead of using costumes like Men.com, they use the "Body Art" with the help of their friends Taylor Reign (aka Alex Vaara). I think it's a cool idea. Can't wait for these Halloween updates.
For now, check out these hot scenes: Mickey Knox fucks Mason Steele in PLAYDAY and Colby Chambers fucks Angel Cruz in SPANISH LESSON.
Mason Steele and Mickey Knox are relaxing in the pool on a hot Saturday afternoon. Mason is floating around on a raft with his bare ass exposed and Mickey can't keep his eyes off of it. With the Temperature soaring both boys felt it would be best if they are in the water and naked. Originally this was just a way to keep cool, but after seeing Mason's body Mickey decides to make a move. At first he sees if he can just get a kiss, hoping mason would be down. Not only was Mason ok with it, he was ready to get fucked right there in the pool. Mickey takes full advantage of the situation and gives Mason a pounding to remember.
+ Mickey Knox Fucks Mason Steele in PLAYDAY
Spanish can be a difficult language to learn once your an adult. Thats why Colby has decided to hire Angel Cruz for private lessons. Angel's first language is Spanish and Colby is hoping to learn a thing or two from his native tongue. Colby really wants to learn a new language but he can't seem to stay focused. He can't think because his cock is so hard. Angel is attractive and charming, Colby just wants to fuck him right there. Angel picks up on this quickly and makes the first move. Guiding Colby's hand to his stiff cock so Colby can't get a feel. Impressed with just how hard Angel is already Colby starts to suck his cock. Spanish lessons soon turn into full on fucking and both are happy to learn all they can.