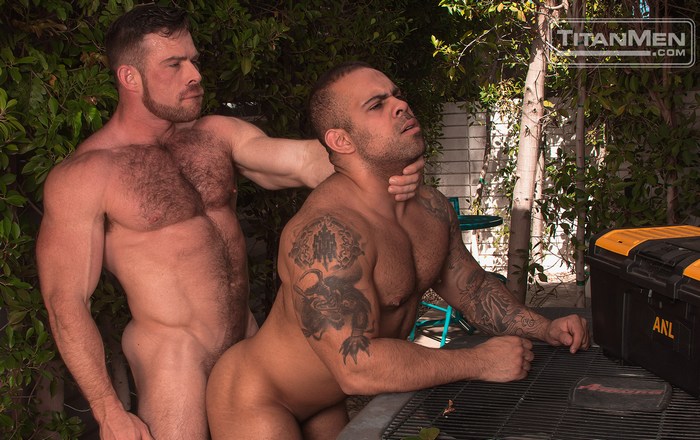 If you enjoy watching the flip-fuck between two muscle hunks Jason Vario and Daymin Voss in previous video from BIG BROTHER, be sure to check out this latest sex scene from TitanMen where musclebound Lian Knox fucks Lorenzo Flexx.
Muscle Overload: Liam Knox Fucks Lorenzo Flexx #GayPorn@LiamKnoxXXX @Lorenzoflexx @TitanMen @doctorjasun

MORE ? (https://t.co/FZQrzhGejV) pic.twitter.com/0h5dgEKiOq

— Queer Me Now (@QueerMeNow) December 6, 2017
Electrician Liam Knox gives apprentice Lorenzo Flexx some pointers at the switch box. "I really enjoy working with you," says Lorenzo, staring intently at him. Liam grips his shoulder, moving in for a kiss as their jean bulges grind. Liam nibbles Lorenzo's lip and takes charge, keeping the sub under his spell as he guides him down. He beats his dick on the sucker's face, Lorenzo taking it to the root as he chokes, spit dripping down Liam's sac to the ground. The sweaty alpha sucks Lorenzo back, then munches his hole and fucks him over the AC unit. The moaning bottom spreads his legs in the air for more, begging Liam to shoot "All over me!" as his groin gets wet.