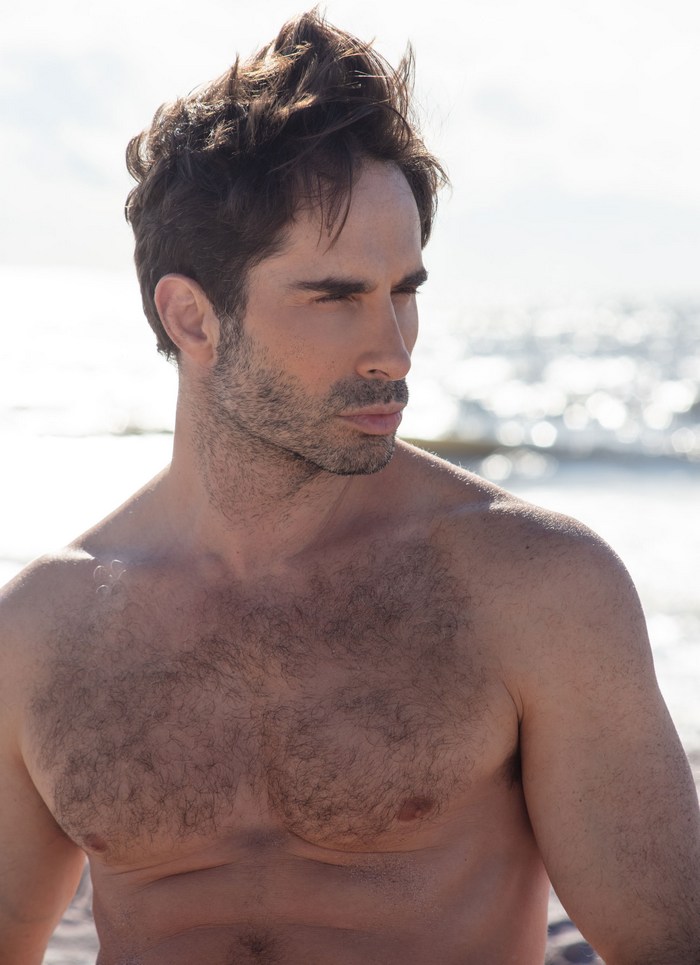 24 years in adult industry and still starring in and producing gay porn movies, learn more about gay porn star Michael Lucas / owner of Lucas Entertainment in the exclusive interview below.
How did you come up with your stage name Michael Lucas?
It was the name I was given by a company I worked for in 1997. If I could turn back time I would use my real name because I own what I do. But that was the performing name I had and so once my career took off I was stuck with it.
How did you get into porn?
After studying law in Russia I really wanted to leave and live in the free world. I was 23 and without documents or language skills. Porn was something I realised I could make a living out of if I took it seriously
What's the biggest differences between adult industry back then and now?
It was very easy back then. You just had to make a movie – film it, edit it and put it on VHS, DVD or whatever and give it to distributors. Today you have so many ways to get to the fans, which makes it more challenging to run a business. Now you need video-streaming, membership, pay-per-view, and more – so it's much more time-consuming and challenging. But the opportunities to reach fans are so much better. The only problem is that piracy on the internet – for scenes that cost a lot to make – makes all this much harder.
How did you start your own studio Lucas Entertainment?
I started in the industry in 1996 and I thought after two years I knew how the industry worked. But it turned out to be very different producing and directing as opposed to performing! I started the company in 1998 from my apartment in the West Village in New York. We did small productions – a one-man show to begin with – and just grew from there.
What makes Lucas Entertainment different than other porn studios?
While most production companies film everything in places like Las Vegas apartments, we want to create an experience where the most beautiful models come to the most beautiful locations around the world. The models stay together, eat together and that creates an incredible chemistry between the performers. We have people from 15-20 countries together in our shoots. We pair models by their sexual preferences obviously, but sometimes we adjust pairings because once the models meet and spend time together there's a real energy and spark between them. That really shows. It's a really expensive way to do it – to fly everyone into a villa in Barcelona for instance. But it creates a really good environment and a different mood. We all have an amazing time and that mood translates into amazing sex.
What are your requirements when casting models?
I would never hire a model who was squeamish. Our models all have to be very hot, obviously. But they also need to be sexual animals. I don't want models who can't swallow cum – whether they're top or bottom. I don't want models who can't do creampie. I never want cum to be wasted. I don't just want it to land on a chest or a cheek. There's only two places where I want to see cum – in a mouth or in an ass. I want models who enjoy eating cum out of each other's asses. You can be the most beautiful man in the world but you can't work for us if that's not what you're into. You have to be into it, because it's impossible to fake.
How do you deal with bad press?
I used to read bad press, but then I stopped. I have a thick skin but you still think about it. And there are much more important things to think about. I didn't bother to read anything negative for years and nothing changed in my life. Not knowing negative things people say didn't change my life. Except I don't get any negative emotions any more! I very much recommend everybody in the industry – in fact anyone with any public profile – to do the same.
Could you tell us more about all the exotic locations Lucas Entertainment filming porn movies?
Well we've filmed all over the world. Because I like international casts we film sometimes in New York and Europe as well as Mexico. Now I'm very much into Mexico. I love this country and we filmed here many times. In San Miguel and Puerto Vallarta. Our next production is going to be in Puerto Vallarta and I've hired the most beautiful four-floor, ocean-front villa. It has an infinity pool on the top and jacuzzis facing the ocean in each room, with breathtaking views. We'll have a gourmet chef on set all the time. What could be better? Beautiful men with having hot sex with a stunning natural backdrop.
What do you think about the amateur clip sites like OnlyFans and JustForFans?
Some studios are trying to keep models from doing it – because it is a distraction. But I don't tell models they can't do it. Because for them it is such a good extra income.
Will fans ever see you bottom?
No.
Single or not?
I have had four long-term relationships. Now I am with an amazing man who I've been with for the last year. I am absolutely happy and hope it'll be the last one!
What's next for Lucas Entertainment?
I've had the company now for more than twenty years and I am very fortunate to have an amazing team that gives me the chance to travel the world and now live half the year in Puerto Vallarta. But I will always be running production and the plan is to keep producing hot ass porn with the world's most beautiful men.
From your instagram and Facebook I gathered that you bought a hotel in Mexico.
Yes because I have a team that I trust I don't have to be in New York all year. So I have bought an amazing house here and spent four months completely renovating it. It's in the heart of Puerto Vallarta, near the gay beach but in a historical bit of the old town. So I have opened Casa Lucas – which is a 3 storage gay guest house, open for bookings all year round. I will build 2 more floors with additional rooms over summer. Here are the links to some apartments for anyone who wants to come. [Airbnb] [Airbnb] [Airbnb]
What are you most proud of?
I am proud that I came to America with nothing and built a good life for myself and my family that I brought with me once I made a good living. I'm proud that I opened and succeeded with an amazing company. And I'm proud that I employ an American team and look after them really well, paying their insurance and pensions and giving something back to the country which I love, which became my home and gave me all these possibilities.
+ Michael Lucas | Lucas Entertainment