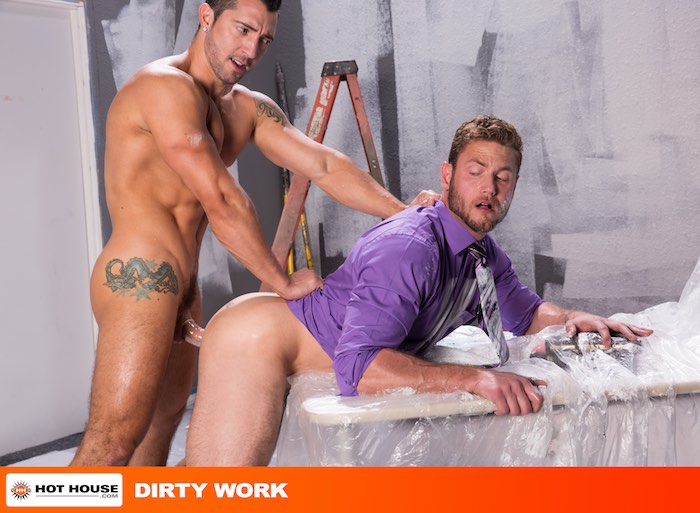 Muscle bottom gay porn star Ace Era is about to make his first appearance on Hot House tomorrow in the first scene from new movie DIRTY WORK directed by Nick Foxx. Ace Era has shot multiple bareback scenes with studios like Lucas Entertainment, Raw Fuck Club & Dominic Ford. Now you can watch him in a rare condom scene with gay porn star Jimmy Durano.
Ace Era gets his muscled butt fucked by Jimmy Durano in his scene from Hot House's DIRTY WORK.
HotHouse.com announces the world premiere of the debut scene from 'Dirty Work.' If you hire these men to do your 'Dirty Work,' you might find them slacking off at the job, but at least they'll be hard, horny, and ready to bust a nut! The debut scene, starring fan favorites Jimmy Durano and Ace Era, will world premiere on HotHouse.com on March 02, 2017.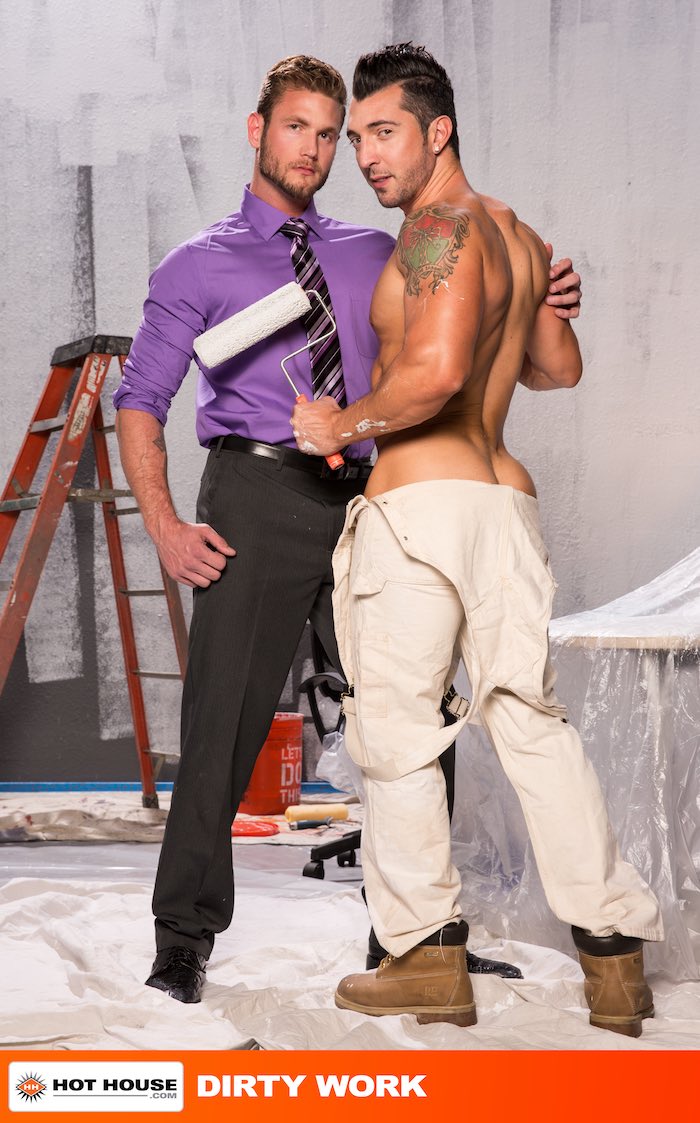 In the new scene, Jimmy Durano should have finished painting the office already, but he's barely halfway done. Jimmy's boss, Ace Era, is furious with him, but Jimmy doesn't give a fuck: he shows Ace what he thinks of him by rolling a giant stripe of paint across Ace's expensive dress shirt and tie. Ace is so mad he tries to fight Jimmy, but Jimmy has the upper hand because he knows how to subdue his blustering boss. Grabbing the back of Ace's head, Jimmy pushes Ace's face into his crotch.

Whipping out his dick, Jimmy slaps it across Ace's lips, and since Ace is such an eager cockwhore, he can't resist opening his mouth and allowing Jimmy's meat down his throat. Jimmy strips off his shirt, revealing his perfectly smooth torso and bulging muscles. Ace bends over a desk and Jimmy eats his ass. Paint splatters across ace's face and arms as their rampant connection gets more and more intense. Jimmy strokes his hard, uncut cock as he presses his face into Ace's ass. After teasing Ace with the tip of his cock, Jimmy thrusts his thick meat inside Ace's hole.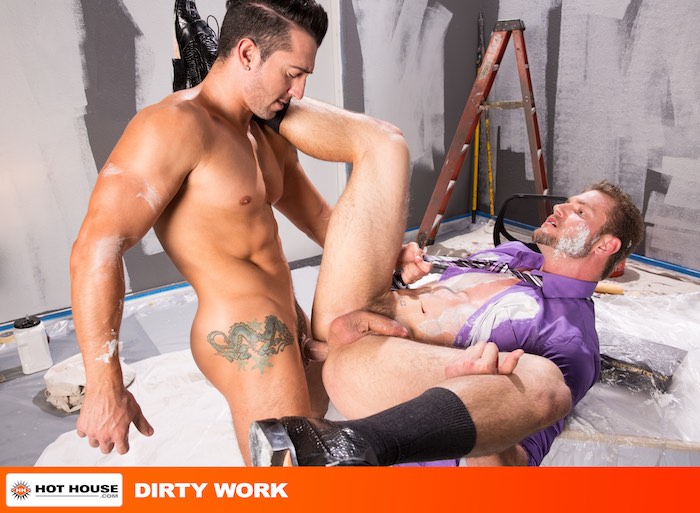 He pounds Ace with vigorous, slamming pumps, and the tattoo that says "FUCK ME" across Ace's ass bounces with the force of the impact. Turning over, Ace throws his right leg over Jimmy's shoulder and gets totally drilled by Jimmy's cock. The intense pressure makes Ace spill his seed, shooting it across his muscular torso. Getting down on his knees, Ace opens his mouth as Jimmy blows his load; cum spills everywhere. When Jimmy stands and heads toward the door, Ace asks, "Where are you going?" "You fucking finish the job," says Jimmy, as he slams the used condom against the sticky paint on the wall.

"Blue collar, rough trade dudes just taking care of business—and it's fucking hot as hell!," states director Nick Foxx. "Ace is so hot and sexy, and Jimmy knows exactly what to do with Ace's perfect ass and Jimmy's own big cock. Just wait till you see what the other guys have in store!"
+ Ace Era Gets Fucked By Jimmy Durano in Hot House's DIRTY WORK