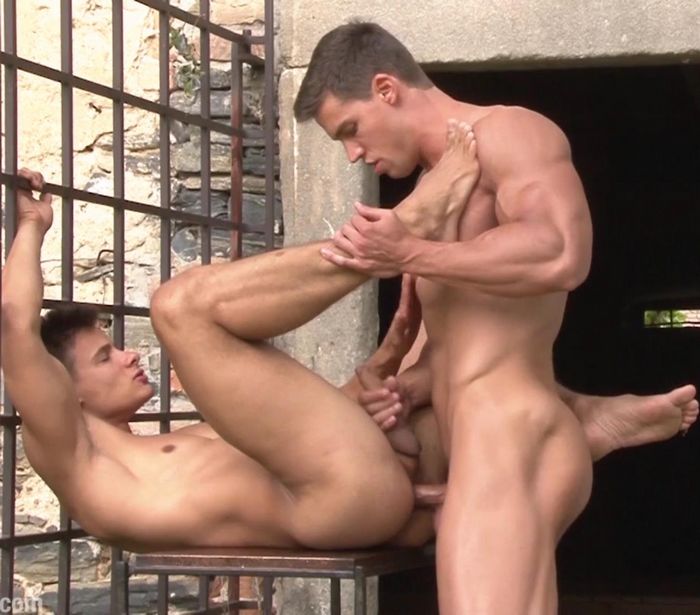 This is going to be a very busy weekend for members of BELAMIONLINE.COM. It's going to be taken up by special Greek Summer programming. Friday: GREEK SALAD (one of 19-part behind the scenes documentary), Saturday: LAST SUMMER IN GREECE (new gay porn series shot in Mykonos) and Sunday: GREEK HOLIDAY remastered. Stay tuned tomorrow for the 3 previews of BelAmi's Greek Summer.
Oh and they just released the new episode of OFFENSIVELY LARGE. This time power bottom Arne Coen gets fucked by Jack Harrer and Joel Birkin Huge Cocks. And they are about to release the scene I've been waiting for, Kris Evans fucks Andrei Karenin from the new ADDICTED TO KRIS movie.
[USE THIS LINK] To Save Up To 30% OFF BelAmi Website.
It is almost possible that there are not enough superlatives when describing Kris Evans and we prefer to leave it up to you all to suggest your own this time. But watching him fucking Andrei Karenin bareback suggest me some dirty compulsive sexual thoughts and acts I can't control! Am I addicted to Kris?
+ ADDICTED TO KRIS: Kris Evans Fucks Andrei Karenin Condom-Free [Coming Soon]
It is almost impossible to run out of superlatives when describing Joel's dick, but we'll leave it up to you all to suggest your own this time around. Our Offensively Large scene this month reunites Joel and Jack and brings in a new boy to the mix. Our lucky guest for this scene is Arne Coen, and if there is one boy who knows how to appreciate a big dick (other than Marcel that is) it has to be Arne, and his cumshot here is ample enough evidence of that. Luckily the combination of 2 Hungarians and 1 Czech has eliminated the need for most subtitles. This scene is so explosive, even the RSA Airforce decided to honour us with a flypast introduction!
+ OFFENSIVELY LARGE: Arne Coen Takes Jack Harrer and Joel Birkin Huge Cocks
+ BELAMIONLINE.COM [Up To 30% OFF]