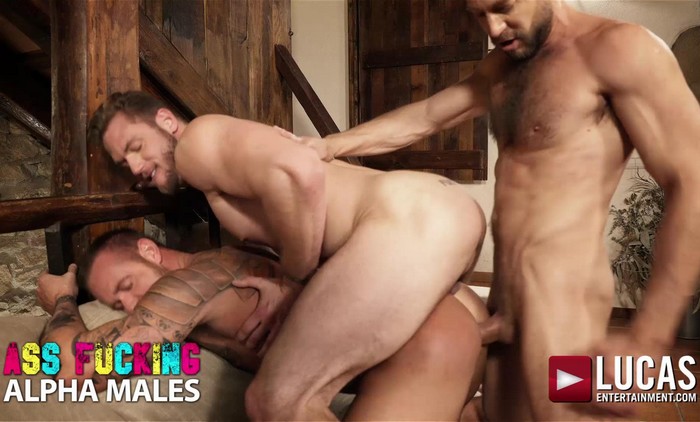 The first scene of ASS-FUCKING ALPHA MALES movie shows "alpha male" top Dylan James fucks two hot bottoms Bogdan Gromov and James Castle. If you enjoyed that, don't miss the second scene. Bulrog is the alpha male top this time with two musclebound bottoms Ace Era and Michael Roman. The scene also marks Michael Roman's first appearance on Lucas Entertainment.
Watch the XXX trailer of this scene Bulrog fucks two muscle bottoms Ace Era and Michael Roman bareback.
Bulrog is a French alpha-male top that likes bossing around guys who are strong muscular men in the streets, but total bitches in the sheets. Michael Roman and Ace Era are his servants in this bareback sex encounter, and he orders them to play with each other before they both begin sharing and working on his uncut cock. You might think a pair of two hulking guys like this is too much for any top to handle, but not Bulrog. He's man enough for both of them and has no problem staying in total control from beginning to end.
+ Bulrog Takes Command of Ace Era and Michael Roman
+ More of Bulrog | Ace Era | Michael Roman