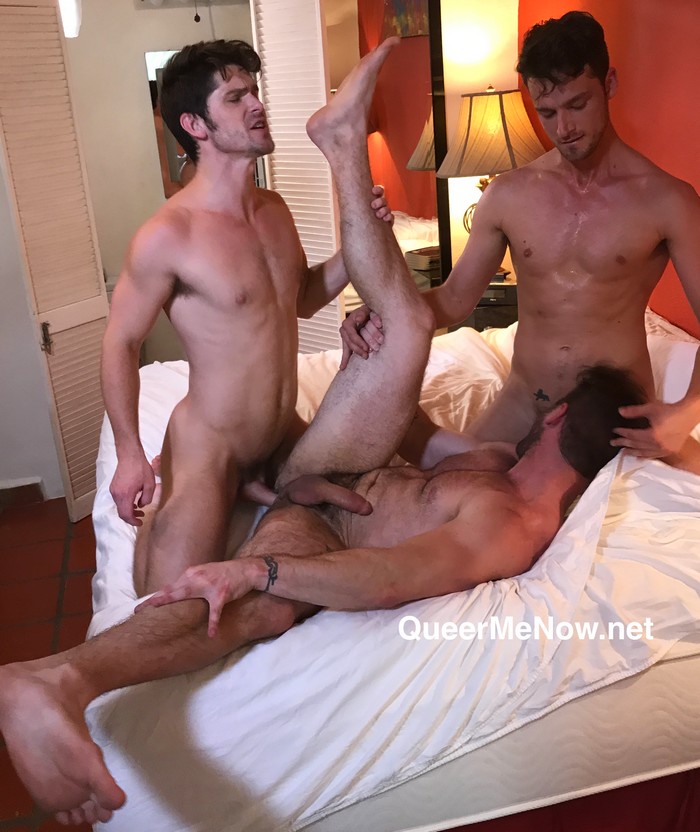 I hope you guys enjoy Queer Me Now's exclusive behind the scenes videos from the Sean Xavier fucks Ruslan Angelo and the Rico, Ruslan, Scott, Daniel & Sebastian orgy scene. Now for the third video from the BARE TENDERS movie. Check out this behind the scenes video from the bareback 3-way starring Devin Franco, Damon Heart & Ace Era.
Gay Porn Behind The Scenes @AceEra2 @Damon_Heart_A @DevinFrancoXXX Bareback FuckFest @MichaelLucasNYC

MORE ? (https://t.co/BnFV62cLCM) pic.twitter.com/zPle3o71pY

— Queer Me Now (@QueerMeNow) July 31, 2017
Gay Porn Behind The Scenes: Devin Franco, Ace Era & Damon Heart Bareback 3-Way
Gay Porn Behind The Scenes: BARE TENDERS
Devin Franco never says "no" to a beefcake, so when Ace Era makes a move on him they immediately start making out and exploring each other's bodies. Devin gets into sucking Ace's hard dick fast, and when they sneak into an empty hotel room to be kinky, they're not expecting the resident to return. But he does, and it is Damon Heart. If they're going to be in his room, he's going to get something out of it. Damon breaks out his arsenal of sex toys before he and Damon take turns breeding Ace in his ass.
+ Ace Era, Devin Franco, And Damon Heart's Raw Threesome
+ More of Devin Franco | Damon Heart | Ace Era