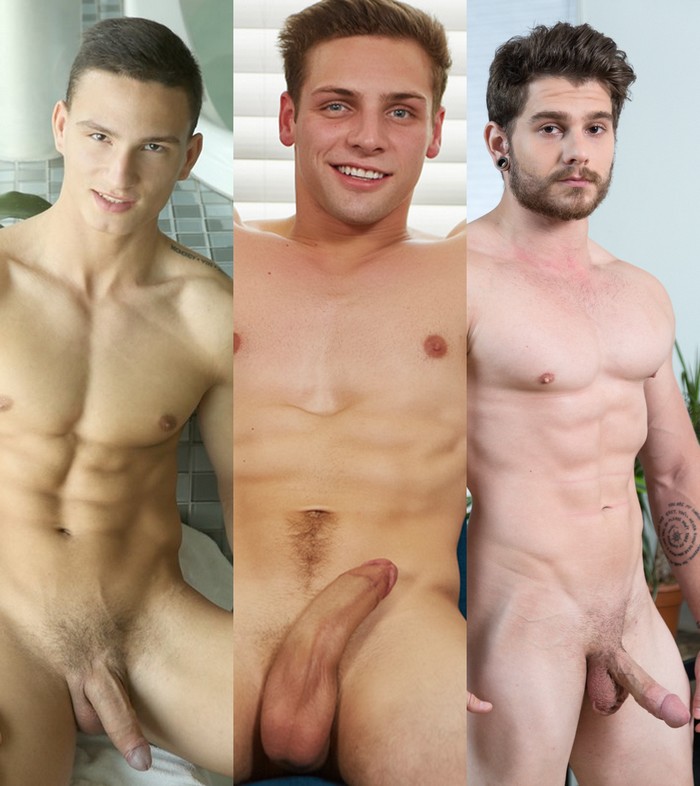 Hot new gay porn models to keep an eye on this week: Handsome jock Max from Corbin Fisher, stunning new BelAmi model Antoine Meloni, and hunky Matty Strong from Next Door Studios.
It's hard to know where to start with Max – and I'm not just talking about his toned body, big cock, and cute face. A California surfer dude, Max loves spending time in the sun, hanging out with his friends, and… neuroscience? That's right – neuroscience. Move over McDreamy and McSteamy, because Max's dream is to go to medical school and to become a brain surgeon. I know I'd definitely love to play doctor with him! He's definitely already got his bedside manner down, because he kept laughing and cracking jokes the entire time we were hanging out. You've just got to love a hot guy who knows how to laugh, too.
+ Max
We are back in Budapest this week with another of our athletic Hungarian boys. Tall, dark and handsome, Antoine obviously puts a lot of work into his body and it certainly shows.
One look at Matty Strong's physique and it's obvious he lives up to his name, but the question is whether or not he's got the muscle that counts. You can judge for yourself in this revealing look at Florida boy Matty, a newbie making his screen debut as peels back the layers and shows you his sensitive side. Spreading his legs extra wide to show you everything, Matty shows his stick handling abilities and he's got a special surprise at the end, one he can't wait to show you. So don't wait too long to book your date with Matty Strong!