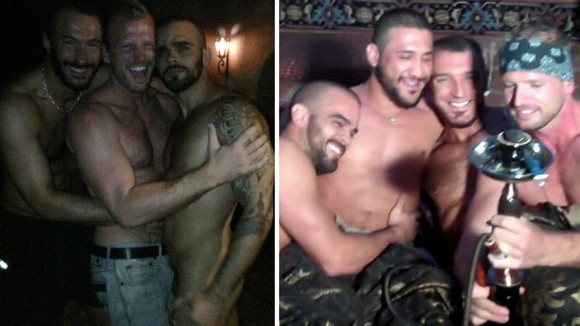 Thanks to Twitter and Facebook, fans can have a glimpse of gay porn stars on the set of Raging Stallion's Arabesque 2 in Sonoma county. Arabesque 2 is a megabuget sequel to 2005's award-winning ARABESQUE. They're also planning to film a Turkish oil wrestling sexpic at the same time.
Steve Cruz calls it "Porn Summer Camp". And many porn stars in it are reporting some behind the scenes tidbits from this porn set via Twitter, Facebook and blog.
The best news for me is that our favorite porn newcomer David Dirdam along with Adam Killian and Wilfried Knight are gonna be in this movie!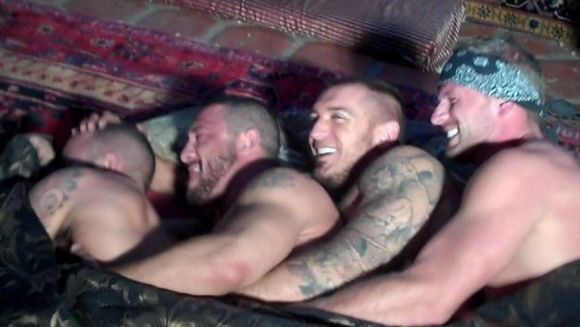 Tony Aziz's tweets: I am packing my sound to play with while I am away for nine days. Porn camp here I cum! @stevecruzblog how is the weather up there?
About to have lunch with @samuelcoltxxx then go to the gym and head up to porn camp with @scottTannerxxx.
We all have beards on the set of Arabesque 2. Hot cast going to be a great film.
Just finshed a HOT Scene for Arabesque II… So fucken HOT. Threesome with Dominic Pacifico and new come Aybar.. Woof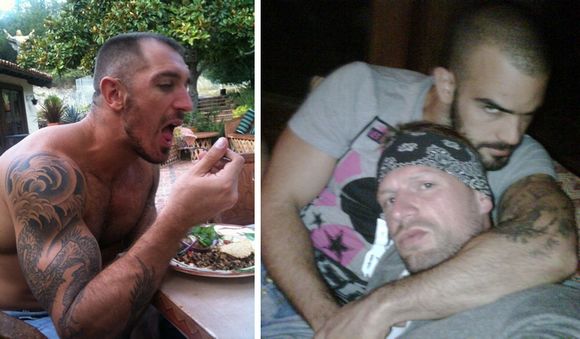 Scott Tanner's facebook: just drove from Sonoma at 6am, left the "bunnies" at the airport so they can head back to Madrid and now is going to the gym and then back up to Sonoma at 2ish….and then back to San Fran at around 6pm, then BACK to Sonoma tomorrow at 5:30PM. i seriously need a helicopter!!!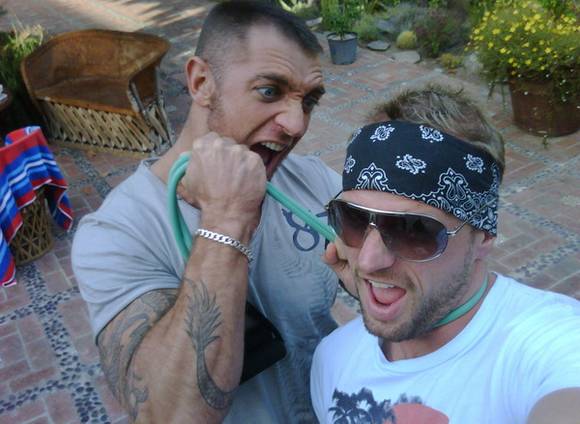 Caption: He obviously missed me!
Steve Cruz's tweets: Porn summer camp… crazy orgy scene closes Focus/Refocus. The hottest cast! D'Macho, Crosse, Knight, Marconi and me. 4skin Heaven…
Morning at porn summer camp for Raging Stallion, its a wrap on Refocus. Wilfried Knight threw me around the room. Tonight starts Arabesque
Just about to shoot the 1st scene of Arabesque 2, Wilfried Knight and D'Macho! I'm videographer, Chris Ward directing! HAWT!
Amazing scene one of Arabesque 2… Chris Ward directed my camera work. D'Macho and Wilfried Knight so HOT together…
Filming the BTS segments for Arabesque 2 this afternoon… Wilfried Knight and Damien Crosse interviews
I believe in Siesta! Too hot at porn summer camp. D'Macho and Killian fucking just yards away doesn't help cool things down (DiMarco)
To bed early, wake up early. Interviewing D'Macho for BTS Special. Bond/Crosse scene today, tonight Cruz/newcomer Aybar from Turkey.
@DerrekDiamond morning wood? YES PLEASE!!! See you up in porn summer camp next week.
Sunday– Arabesque 2: I shot the Tony Aziz, Dominic Pacifico, Aybars 3 way: Rain, Arabic, Hooka Pipes, Tony DiMarco director. Amazing!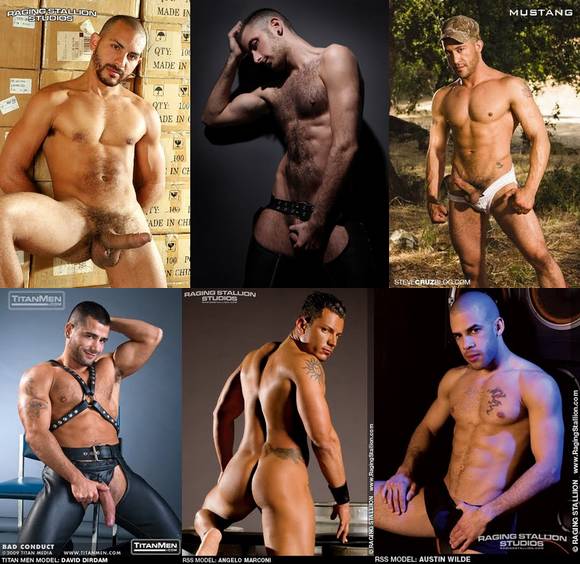 Raging Stallion Exclusive pornpup RJ Danvers reported this on his blog!
This coming Monday, I leave for California to shoot the sequel to Raging Stallion's GayVN and Grabby nominated movie, "Arabesque". I'm really fucking excited that I was able to get school off and be a part of this project. Arabesque was actually the first Raging Stallion move I ever saw . . . being a part of the sequel sort of brings my entire porn career full circle in a way 🙂

So aside from that bit of nostalgia, I'm fucking stoked about my six (six!) ridiculously hot scene partners. It doesn't get much better 🙂 I'll be filming a group scene with Tony Aziz, Antonio Biaggi, David Dirdam, Austin Wilde and Angelo Marconi. Check them out below!

In addition to the group scene, I'm also going to be filming my second fisting scene with furry muscle stud Alessio Romero.
RJ Danvers' tweets: Tanning so I can be all sexy and stuff for Arabesque 2.
I'm flying into SF then apparently immedietly being driven to Sonoma county. I wish I could do dinner or something . . . :-\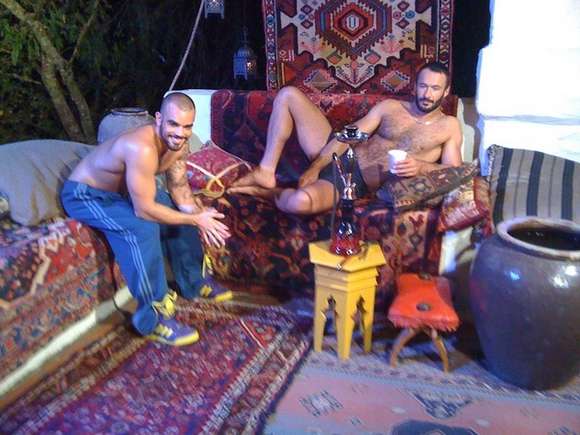 Gay Porn Blog's tweet: Gay Porn Road Trip! Driving up to secret porn shoot location with @theswordcom for some BTS action. Lots of pics to come soon.
Derrek Diamond's tweet: Heading up north for a shoot ttyl
Sister Roma's tweet: On a road trip to Sonoma with @ScottTannerXXX and @DerrekDiamond. It's raining but Scott is doing a great job driving…help!