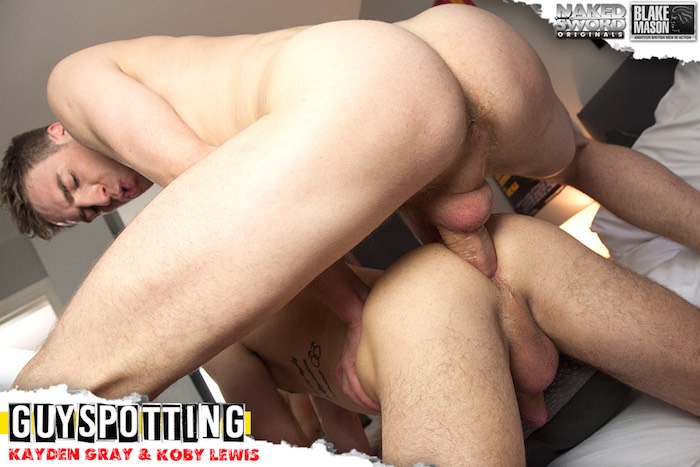 If you are a fan of hot gay porn star Kayden Gray, don't forget to check out his YouTube channel. He updates it multiple times a month with many revealing videos like these 5 ones below. This week you can also watch Kayden Gray fucks cutie Koby Lewis in GUYSPOTTING Episode 2: "Arsehole", a collaboration gay porn movie between NakedSword and Blake Mason.

Not Alone

Gay & Proud

So Hot I'd Fuck Him Without A Condom

Get HIV From An Undetectable Guy? (Twitter Poll)

Hep A On The Loose (Vaccine)
Gay Porn Star & YouTuber @KaydenGrayXXX Fucks @Koby_LewisXXX in GUYSPOTTING @ItsMickeyTaylor @mrPam

MORE ? (https://t.co/CgMmSD1lGX) pic.twitter.com/7FS4gD3mJr

— Queer Me Now (@QueerMeNow) September 13, 2017
Kayden Gray & Koby Lewis If Grindr were a kingdom Kayden Gray would be King. With his chiseled good looks, defined swimmers build, and monstrous 10-inch cock he has his pick of all the subjects in the land – and today he has summoned hot bottom Twink Koby Lewis to do his bidding. The cock-hungry Koby knows his place and submits to Kayden's rigorous face-fucking and ass pounding. As they lay panting covered in sweat,Koby foolishly asks Kayden if they can see each other again. Kayden dismisses him with a sneer and tells Koby he's nothing more than fuck toy. "Arsehole!" Koby yells as prepares to leave but Kayden is already back on his phone searching for his next conquest.
+ Kayden Gray Fucks Koby Lewis in GUYSPOTTING Episode 2: "Arsehole"
+ More of Kayden Gray | Koby Lewis