British gay porn star Mickey Taylor recently released his latest album Midnight Palace. (Check out two singles Sirens In Chicago and Chills below.) With his music career and being a porn star, I'm glad Mickey Taylor let us know more about him in this interview with Queer Me Now. He discusses his music, his album, porn industry, being Nakedsword exclusive, and his sexy Fiancé Jack Taylor (formerly known as Jack Green).

Mickey Taylor- Sirens In Chicago

Mickey Taylor – Chills FT. ØMC (Official Lyric Video)
Could you please walk us through your music career? When and how did it start?
I guess the beginning comes from my Musical Theatre training I went to school to learn dance, acting and music a few years ago after studying law. I really enjoyed it. I didn't do anything with it for such a long time. But then a blog asked me about my past and I mentioned the music side and fans responded and wanted to hear something. I released a cover which did really well and I guess just kinda wanted more from haha and here we are!
What's the influences and inspiration behind your music? Song like Sirens In Chicago surely has influence from Bjork and Lana del Rey.
I'm so glad you said Lana Del Rey because she was and still is a huge inspiration with my music alongside, Lorde, Halsey, Lido and Tove Lo. Each have such a unique style but are either very dark pop or electronic pop. I wanted to create a balance of the two.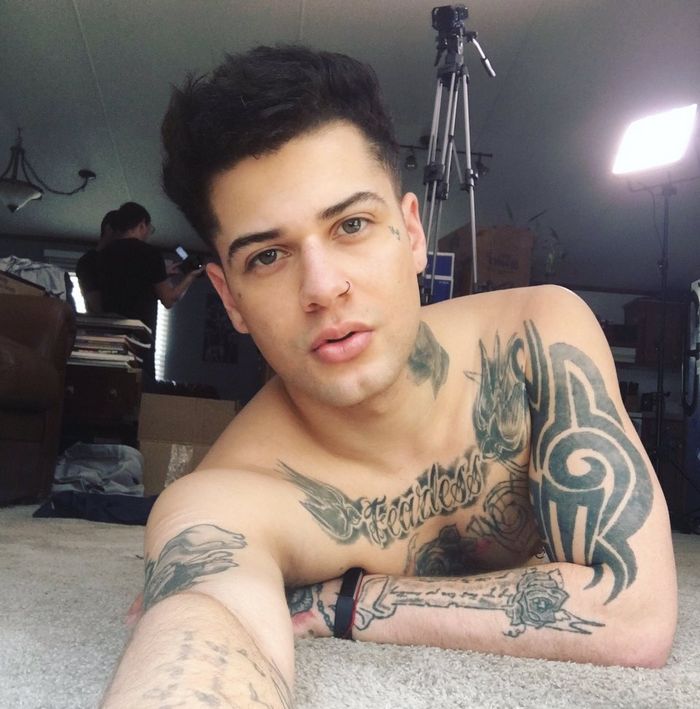 What's your ideas and concepts behind your latest album Midnight Palace? How is it different from previous album Puppets Lament?
The entire album inspired by love and all its forms. Many of the forms are inspired by my fiancé Jack Taylor. He fills me with so many expressions and I used that power he gives me to write the album. Midnight Palace at its core is me expressing feelings I've never felt I could before because I might fuck up the right words. Music gave me a way to say the things I needed to. Midnight Palace is kind of me exposing wounds and scars for the world to see. I had a lot of fun writing this album. I wrote the entire thing in two weeks except the one or two written by my producers. I think the album is a more mature version of Puppets Lament, I was still figuring this new industry and Puppets gave me the ability to tap my wings and see what worked. I'm now finding my style and harnessing it.
Did you draw inspirations from gay porn industry for your music?
Totally! and I have in previous work. Diamonds on my previous album is about a dream I had of Ricky Roman. On the new album Sirens In Chicago and Derelict talk about being away from my fiancé for work (porn) all the time and the impact it has had on not just him but also the alter ego I began to develop. I was bringing Mickey home from porn scene and struggled with switching that version of myself of. That's why in Sirens In Chicago there is two people making love to me in the video. I play my fiancé and Cal an Auz play my two personalities that have developed since the industry. Sometimes people don't understand how had it can be to cope with the porn world and its bubble and still maintain a normal lifestyle at the time while trying to work on everything you do. The alter ego sometimes doesn't get left on set. These two songs just express my struggle but also just remind my fiancé that although I'm tough to handle at times and may not always be around, I'm here for and this is all for him.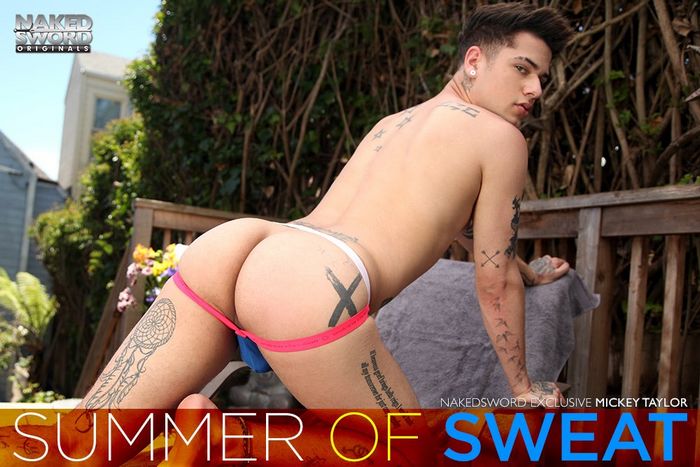 Does working in porn industry affect your music career?
I'd be stupid if I think it didn't. I'm sure there has been mainstream gigs or festivals I've not been recommended for because of my porn but also there has been many gigs and festivals I have done where that doesn't even come into the equation. I mean at the day if I'm performing my music in that moment I'm not there for porn, I'm a singer. and overall people understand that. I slowly have been gaining amazing mainstream interest for my music and even Huffington Post reviewed me and the album which H was happy about. I'm slowly being recognized out of our queer community which I love. But I also know I would never let those LGBT fans down and disown them. They brought me up and I will take them up with me. Without the loyal fans I'm nothing. None of us are.
Could you tell us more about being a trained dancer?
I am trained in tap, jazz, hop hop, ballet. I've wanted to use them for a while in a music video but its finding the right concept which recently I have figured out and fans have wanted a dance video from me for a while so I can't wait to finally give that to them.
You are now a director too, how did you get start as a director? Which one is harder, directing or performing?
I was asked by Blake Mason to try out as their new director. I have had experience before and learned all I know from mr Pam. I was asked to shoot Kayden Gray and Johannes Lars. After that I went back to my own work for a while. But then award season came and that scene cleaned up which I was shocked but so happy about! Not long after that I agreed to shoot all their future content and I've been loving it. I enjoy doing both because as model directing I have a stronger understanding and sympathy that sometimes other directors I've worked with have lacked. I have the patience to understand some things on set are to do and the things asked of you can be a bitch quite frankly. I treat everyone on my set how I would wanna be treated. I've been revamping and fixing things up on that site and the response has been immense! I have lots to learn still but I'm loving this new chapter!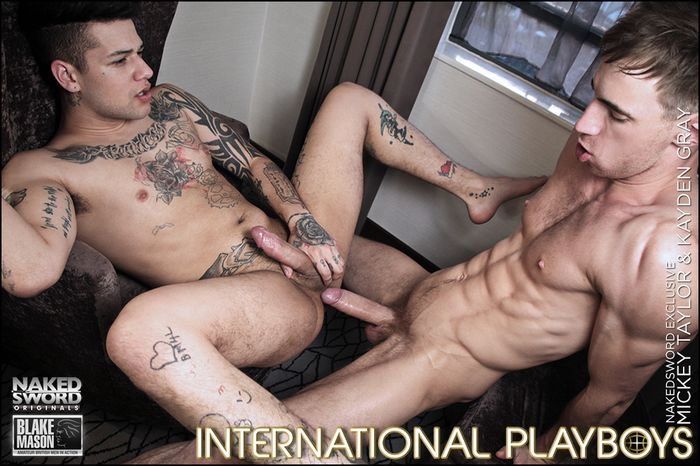 Any funny or memorable stories that happened during porn shoots?
One memorable time was on my recent scene with Naked Sword with Brian Bonds and also with Colton Gray. I won't say why as they aren't out yet. but wait and see. My scene with Brian is by far my best scene to date!
What do you think is the most different between gay porn industry in UK and US?
The length you film for and the scene rates. UK studios aren't as big and the budgets are smaller so you are paid less unless you are a established performer. The rates vary from £50-400 for models. It may seems small but you are also on set for many of these sites for around 3-4 hours which is vastly different to the US most studios in the US although paying better, ask you to shoot 8-9 hours.
Could you tell us about your time as Nakedsword exclusive model?
I really loved it, and I think that always showed. me, Pam and Roma were always at events just having an amazing time. Usually when a model leaves a company you can expect them to publicly throw shade about hard it was. But for me the reason I left was just because I was alone as a exclusive. Doing events just as the model could be a little lonely. I missed Bray and the bond we had. This is also my last year in porn. I wanted to leave Naked Sword, work on my body and then shoot for every studio possible and then leave so I gave fans scenes on sites they loved and with models they loved.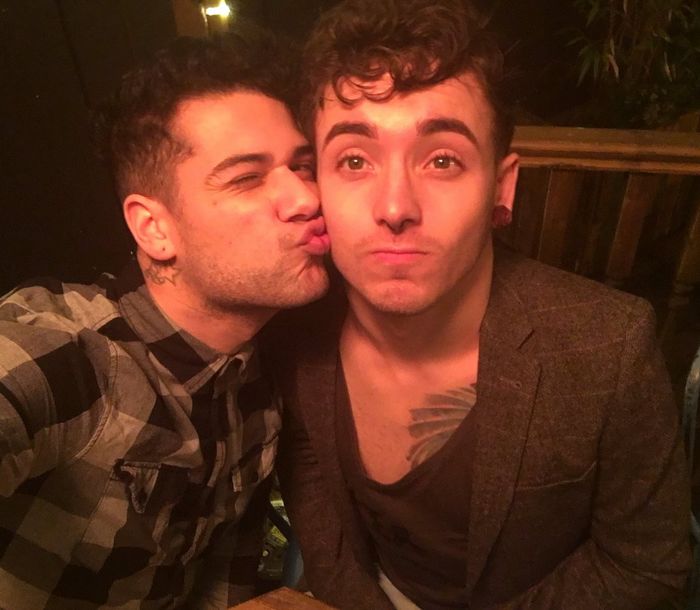 Please tell us about Jack Green, now that he changed his porn last name to Jack Taylor?
Haha he is my light! I love him so much. he's been my stable connection to everything in my life for some time. I think at times I forget just how I do. Tthe books, the music, directing and being in porn. Sometimes I lose myself and crash into a emotional black hole. He is always there to save me. Without him I wouldn't have carried on with many things I do and I have him to thank for being such a inspiration. We haven't set a wedding date yet as he is studying and I'm about to go on tour but its in its early planning stages! We plan to go huge!
What's your future projects?
I have one more book to release which will be my view of the last three years I've been in music and porn. Its gonna offend or anger some people models or people but I can only speak my truth and if they did something bad in my life I and its public knowledge I cant exactly not elaborate in the book. Above all the books have been around in the hopes of empowering and inspiring others.
I am also working on new music which is great fun and can't wait to release it! as well as working on my physical body and mental one too! And of course I'm not about to slow down on porn just yet haha.