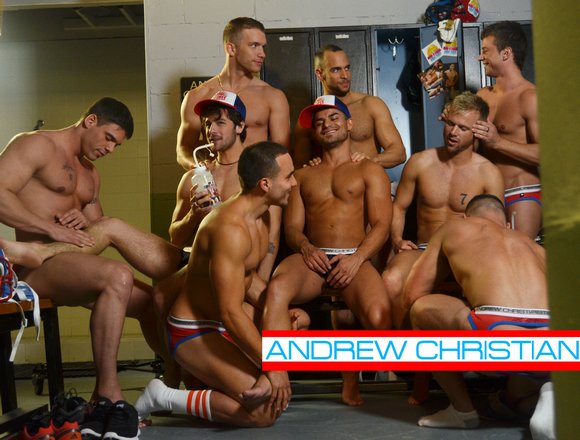 Andrew Christian teamed up with the Randy Blue models to make a sexy fun video to Kimberly Cole's song "U Make Me Wanna" promoting the massive Matinee Las Vegas party. It's called "Locker Room Payback" and it stars the hot men of Randy Blue!
Randy Blue porn stars Cameron Marshall, Quinn Jaxon (Kurt Madison) and Nicco Sky play the water boys with Derek Atlas, Jake Andrews, Sean Zevran, Marcel Cruz, Brett Swanson and Brad Barnes as the football players.
RANDYBLUE.COM needs to make the hardcore, full-on orgy version of this underwear commercial with the same cast ASAP! For now, you can watch one of the water boys, Cameron Marshall gets fucked by Jarrett Rex in a new video.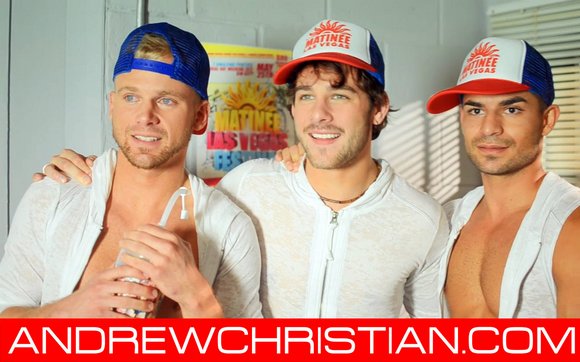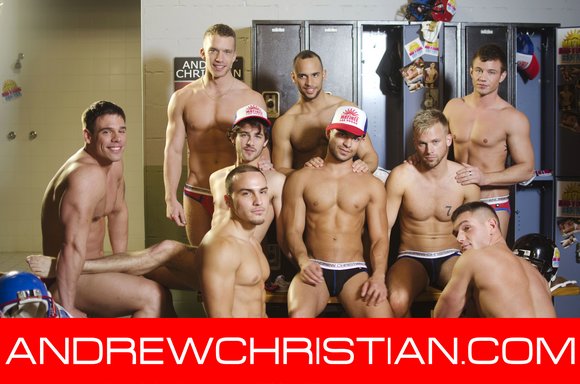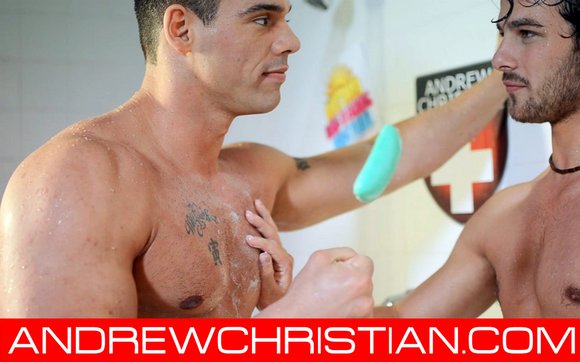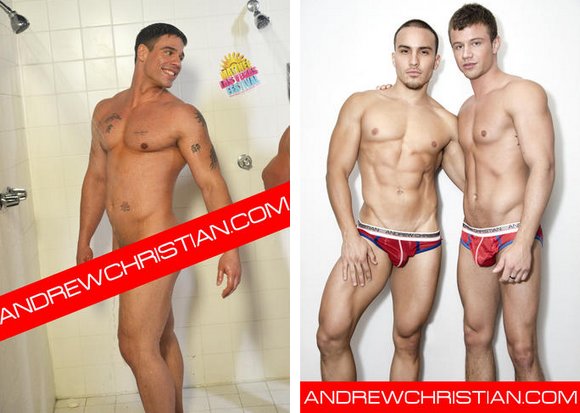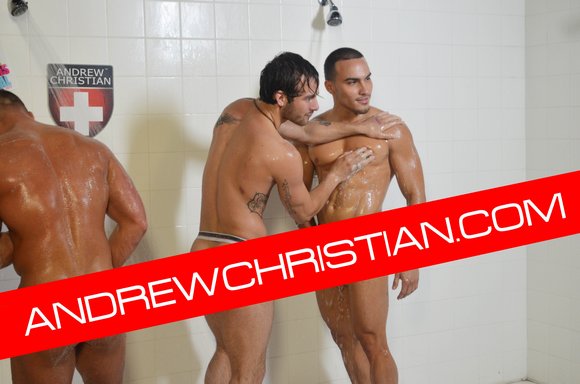 Andrew Christian has teamed up with Matinee North America to launch and sponsor the sexiest party this summer—Exposed Underwear Pool Party at Matinee Las Vegas! To launch the Memorial Day Weekend festival, Andrew Christian combined forces with adult entertainment powerhouse, and co-sponsor of Matinee Las Vegas, Randy Blue and his top models to create a sexy and playful video that will bring you back to your locker room fantasies.

The Randy Blue models featured as naughty football players and water boys are Derek Atlas, Jake Andrews, Quinn Jaxon, Marcel Cruz, Sean Zevran, Nicco Sky, Cameron Marshall, Brad Barnes and Brett Swanson. The coach is played by Matinee Las Vegas DJ Nick Ayler. The video's concept is the typical beefy jocks picking on the smaller guys, however, in this video the shower scenes, the locker room interaction and the subtle actions and twist make all the difference. If the scenes don't get your heart racing then Eddie Amador and Kimberly Cole's song "U Make Me Wanna" feat. Garza will surely get you on your feet.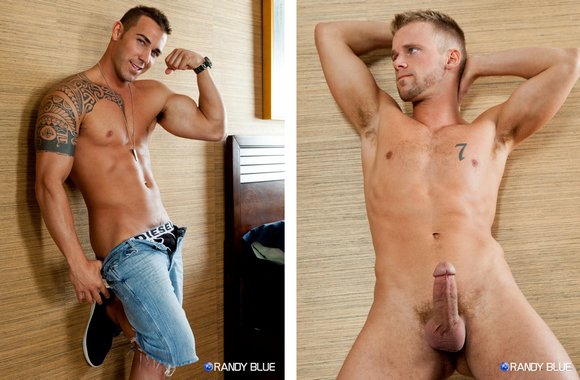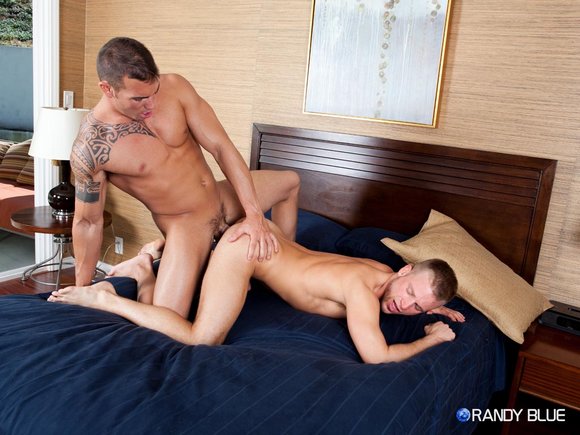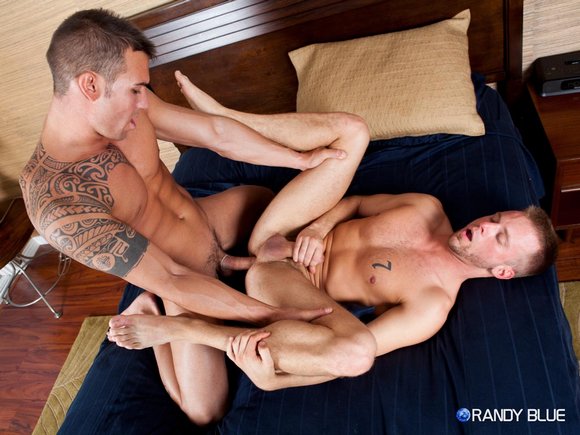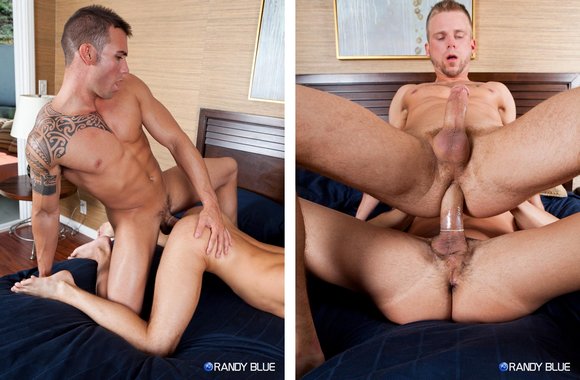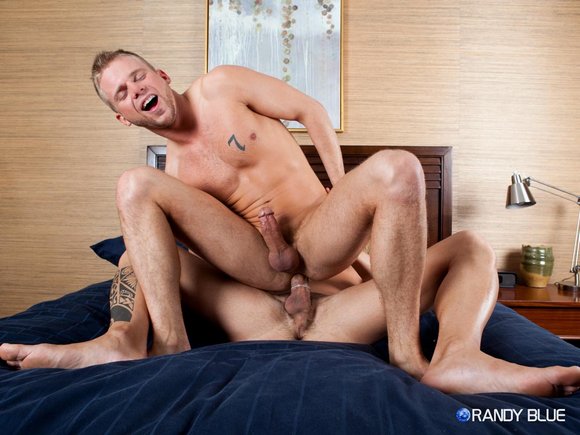 + Jarrett Fox Fucks Cameron Marshall