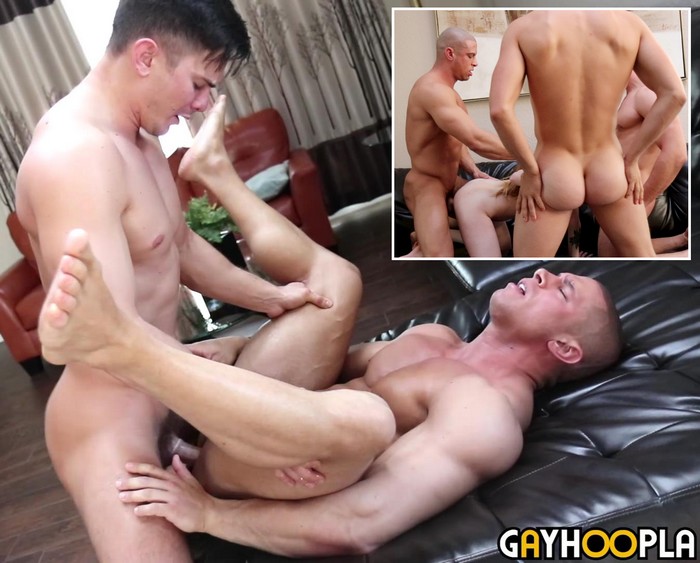 Bodybuilder Sean Costin is back for more butt-fucking actions at GayHoopla and HotGuysFuck. This week you can watch 3 muscle hunks Sean Costin, Brady Quinn & Rob Burry gang-bang a girl in HotGuysFuck's first foursome scene. And I can't wait to see Sean Costin get his bodybuilder's butt fucked by Zach Douglas this Friday, June 23 on GayHoopla.
Sean Costin Gets His Bodybuilder's Butt Fucked By Zach Douglas [Coming Soon] @GayHoopla #GayPorn

MORE??https://t.co/9AMCqTYgVT?? pic.twitter.com/U3si2EC8aO

— Queer Me Now (@QueerMeNow) June 18, 2017
Sean Costin is back to take that long rod. We paired him up with Zach Douglas who's done such a fantastic job lately getting his fuck on. We've wanted to bring Sean Costin back for awhile and finally made it happen. His body is better then ever and that big muscle butt of his was long overdue for a nice pounding. Zach & Sean had amazing chemistry and put on an exhilarating show. I've honestly enjoyed filming more and more with Zach lately because he's finding his inner love making beast. He's done such a unbelievable job and reeks of sex when on video. I hope everyone is happy… getting Sean back cost me a pretty penny. That ass was totally worth it though. HOT DAMN!
+ HOT Muscle FUCK: Zach Douglas Pounds Sean Costin's Bodybuilder Butt [June 23]
X
X
X
X
X
X
X
DO NOT SCROLL DOWN IF YOU DON'T WANT TO SEE STRAIGHT PORN
X
X
X
X
X
X
Well fuck me… Monica Scott honestly is a trooper. This video with Brady Quinn, Rob Burry, and Sean Costin was actually supposed to have another girl who bailed last minute. Monica Scott being the cock lover she is, still wanted this scene to happen. She was a personal fan of all 3 of these guys and hand picked them herself. I was a little worried and turned on when she decided to move forward despite the other bitch bailing. All the guys had their way with Monica's vagina and she loved it. One of the awkward things that randomly happen was Brady Quinn's real life girlfriend called in the middle of the shoot. She had no idea where he was and I guess he was late for a prior engagement. He did have to disappear towards the end but Rob Burry and Sean Costin finished the job. Damnit Brady's girlfriend, can't you see he was busy! HOT SCENE FOR SURE.
+ Group Fuck: Brady Quinn, Rob Burry, and Sean Costin FUCK Monica in Foursome