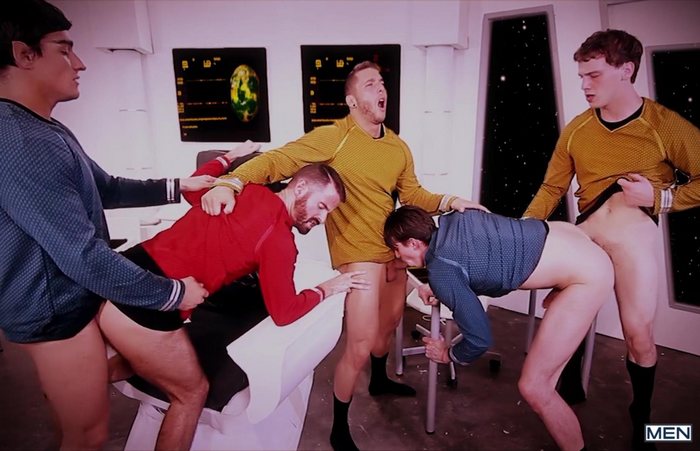 OMG! This is great news for a gay sci-fi nerd like me. MEN.COM is about to release STAR TREK: A Gay XXX Parody with gay porn stars Rod Peterson as Captain Kirk, Jordan Boss as Spock, Donny Forza as Chekov, Jack Hunter as Doctor McCoy (Bones), Brendan Patrick as Scotty, Micah Brandt as Uhura, and Henier as Sulu.
Check out the trailer below. It features the moment gay Trekkies have been waiting for… the kiss between Kirk and Spock LOL. STAR TREK: A Gay XXX Parody Part 1, the Kirk, Spock, Chekov, Bones & Scotty 5-way fuckfest will be released this Halloween, October 31th.
STAR TREK: A Gay XXX Parody ( https://t.co/9rrlYL6UcR ) @Men @XXXJackHunter @DonnyForza @Brendanpatxxx @gaycomicgeek @ChrisCriscoXXX pic.twitter.com/GxlpAzXbA8

— Queer Me Now (@QueerMeNow) October 28, 2016
The Enterprise and her crew are in danger of destruction—Spock and Captain Kirk argue their way through a daring rescue mission. Once the ship is steadied and safe from harm, the crew celebrates the best way they know how—with an intergalactic jizz orgy.
+ Star Trek: A Gay XXX Parody Part 1 – Rod Peterson, Jack Hunter, Jordan Boss, Donny Forza & Brendan Patrick ORGY [Coming October 31th]
+ MEN.COM