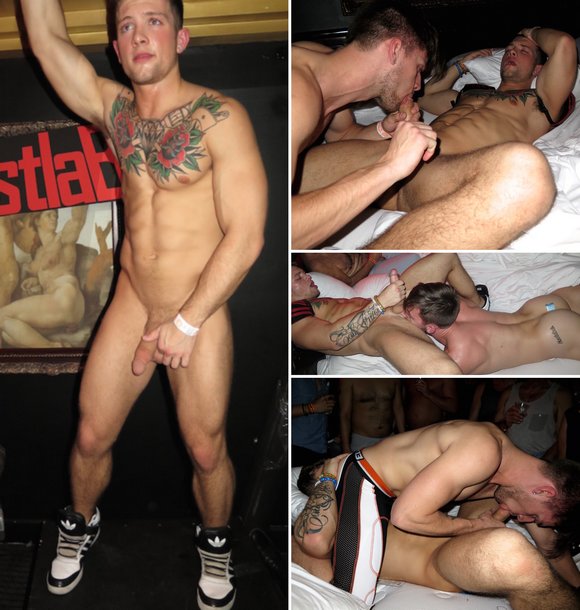 Queer Me Now Blog has brought you the full coverage of HustlaBall Las Vegas 2015 throughout the week. Check it out here, here, here, here, here, here, here, and here. And I save the best for last.
Here is the last photo set from my collaborator @philliyT from NIGHTSINWEHO.COM who spent a weekend in Las Vegas and brought me these pictures from the HustlaBall Pre-Party held at Artisan Hotel.
It's a strip show by rising gay porn star and Falcon exclusive model Sebastian Kross.
Sebastian Kross was the it boy this weekend. Everyone wanted a piece of him – fans and other performers alike. He did a brief nude striptease in a back room, with DJ Pornstar / Dominic Pacifico. It didn't last long as he was almost mobbed by people.
Another photo set is the sex show between Sebastian Kross and Tayte Hanson. @philliyT was so lucky he was the only photographer in the room when this impromptu sex happened! You can not see this duo having sex on camera now since Sebastian is Falcon exclusive and Tayte is CockyBoys exclusive. But you can see it here exclusively on Queer Me Now Blog. Thanks to @philliyT.