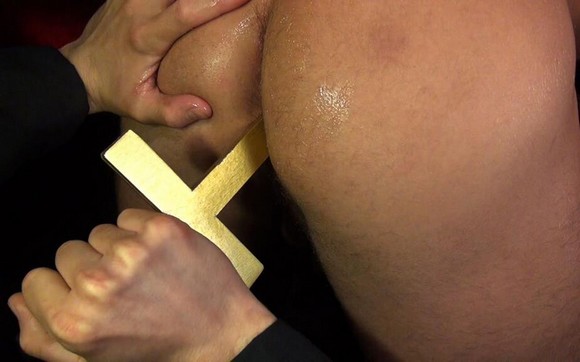 Oh boy… as if the topic of "barebacking" in gay porn is not controversial enough, Director Nick Moretti combines barebacking with religion in his upcoming movie "Our Daily Bred."
I'm half way through editing the new BBRT Media movie "Our Daily Bred" that I directed and I wanted to share the intro to one of the scenes featuring Blue Bailey and Preston Johnson. Ya… I'm going to hell. I like warm weather and so many of my friends will already be there so it's cool. Hope you like!
Could this movie "Our Daily Bred" be the most controversial gay porn movie of the year? From the preview pictures, there are scenes with priest and monks having sex, even the scene where a top sticks a cross up a bottom's ass… Rock Candy Films released a movie with the same theme last August called "A Priest's Confession" but that movie contains condom scenes.