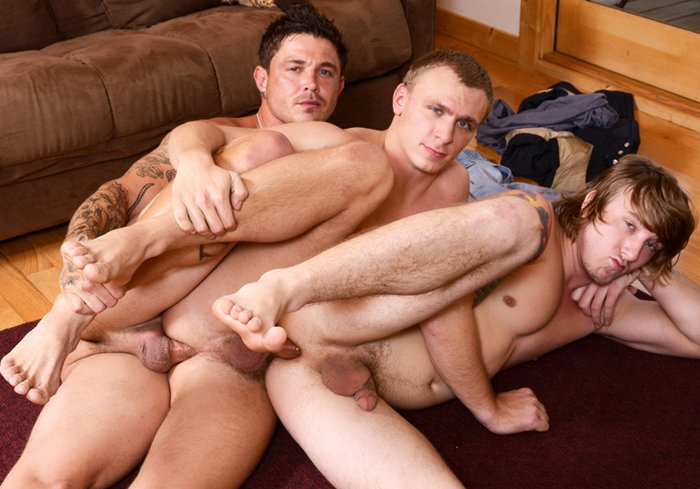 Have you watched Johnny Rapid's First Bareback Scene from JuicyBoys Productions? What do you think about it? It's the scene everyone in gay porn is talking about. In that scene, porn star Johnny Rapid gets fucked by former Sean Cody model Dennis West.
But it looks like Dennis is not the only former Sean Cody model you will see in new scene from JuicyBoys Productions. Because along with Johnny Rapid Goes Bareback Part 1, they also released 3-part bareback porn series called BACKWOODS BAREBACK. It features porn stars Sebastian Young, Tom Faulk, Scott Harber AND Sean Cody model Bryce.
Bryce has starred in 7 sex scenes on Sean Cody including the popular 6-Stud Mountain Getaway Bareback Orgy. And he is the second Sean Cody model after Dennis to work with JuicyBoys. Is this mean we will see more of Sean Cody models popping up in upcoming videos by JuicyBoys Productions? If so, which Sean Cody model do you want to see next?
BACKWOODS BAREBACK also takes place in a cabin in the wood, just like the Sean Cody's Mountain Getaway series. And it also ends with an orgy but this time it's Tom Faulk getting gangbanged. You can watch the XXX trailers of BACKWOODS BAREBACK on JUICYBOYS.COM.
[UPDATE] From his Twitter, it looks like Tom Faulk shot these bareback scenes before those bareback gangbang scenes at Fraternity X.