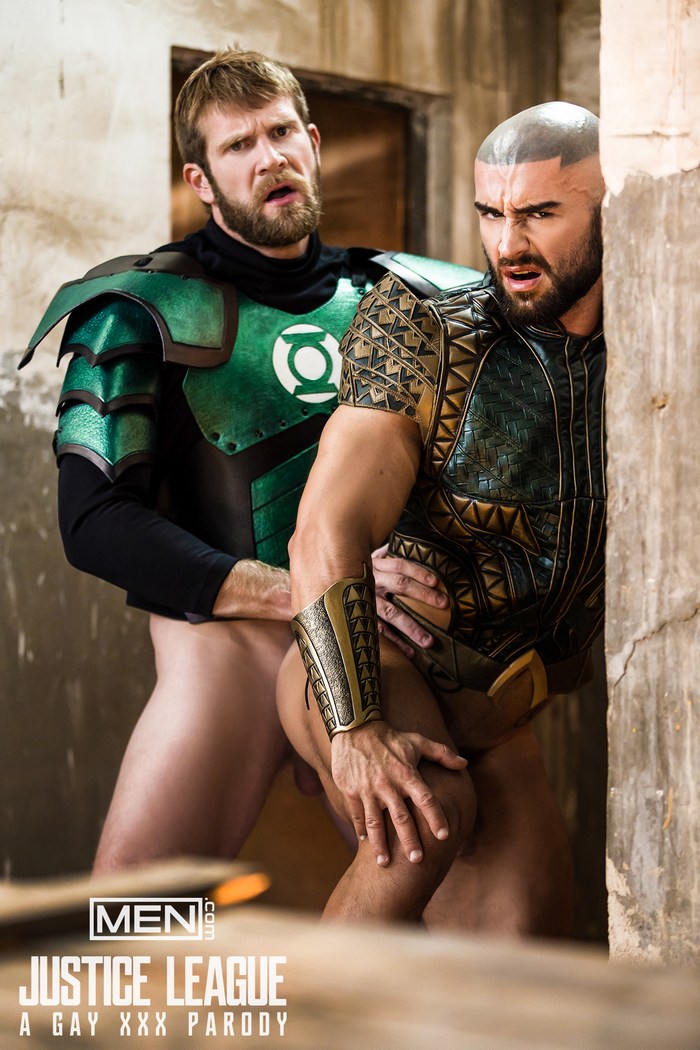 Men.com just released the XXX trailer of episode 2 of Justice League: Gay XXX Parody. This one features hunky Aquaman getting fucked by Green Lantern. French gay porn superstar Francois Sagat plays Aquaman with Colby Keller as Green Lantern and RuPaul's Drag Race Manila Luzon as Wonder Woman. The scene will be online this Friday, December 1st.
For now, check out these hot scenes from Men.com: Derek Bolt bottoms for Vadim Black in Magic Dick, John Magnum fucks Jacob Peterson in Wrong Number, Nate Stetson fucks Doug Acre in The DILF Diaries Part 3, and Cliff Jensen and Ashton McKay tag-team Beaux Banks in Couples Massage Part 2.
Cumming Soon: Green Lantern Fucks Aquaman in Justice League: A Gay XXX Parody Part 2 #GayPorn @SagatFrancois @colbykeller @alter_sin

MORE ? (https://t.co/X4l5n4GqKa) pic.twitter.com/b8eeimDkEO

— Queer Me Now (@QueerMeNow) November 28, 2017
Aquaman (Francois Sagat) is summoned out of the ocean and he immediately hunts for the Green Lantern (Colby Keller) to find out what gay means. The Green Lantern decides it's best to just show him.
+ Aquaman Francois Sagat Gets Fucked By Green Lantern Colby Keller in Justice League: A Gay XXX Parody Part 2 [December 1]
Vadim Black is practicing his magic tricks for a show when his roommate Derek Bolt interrupts. Vadim asks him to be his test audience and Derek gets just what he wished for in the grand finale.
+ Derek Bolt Botttoms For Vadim Black in Magic Dick
After a night of chatting it up with a beautiful girl, John Magnum decides to text the number she gave him for some after-hours action. The text goes to Jacob Peterson and he just can't help playing along to get John for himself…
+ John Magnum Fucks Jacob Peterson in Wrong Number
After a long day of soccer practice, a horny Doug Acre gets home and finds his mom's boyfriend Nate. With some encouragement, Nate convinces Doug to toss his balls around.
+ Nate Stetson Fucks Doug Acre in The DILF Diaries Part 3
Cliff Jensen and Ashton McKay are out tossing a ball when Beaux Banks spots them and wants to toss more than a ball with Ashton. When Cliff steps away for a minute, Beaux swoops in to offer Ashton a private massage. Ashton happily agrees and Beaux gives him more than he bargained for. Not one to be left out, Cliff makes sure he gets a turn as well.
+ Cliff Jensen and Ashton McKay Fuck Beaux Banks in Couples Massage Part 2
+ MEN.COM