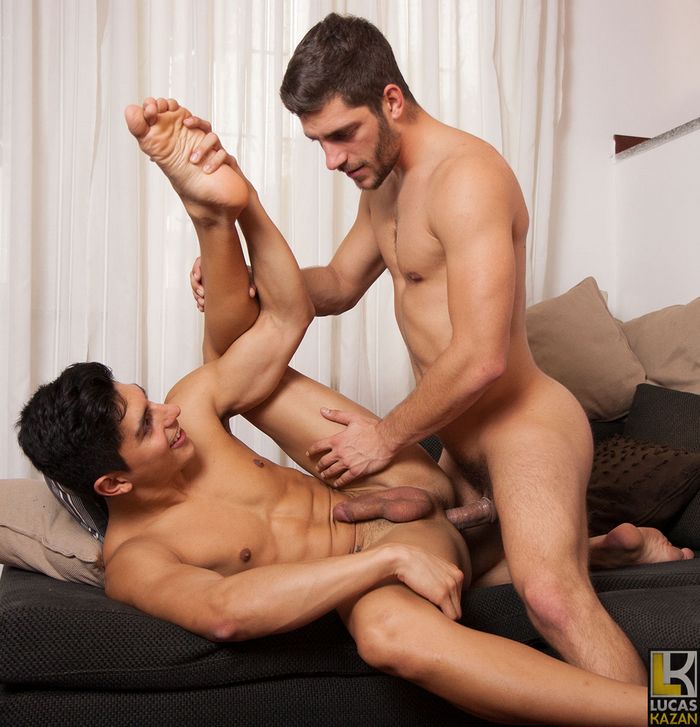 LUCAS KAZAN is now offering 30% OFF its membership. And for this holiday season, it just released this rare occasion where you get to see BelAmi gay porn star Ariel Vanean having sex with hot (non-BelAmi) bottom Ken Summers. This special scene was shot in Milan, Italy last October. I have an exclusive behind the scenes video here.
Check out the XXX trailer from this hot scene BelAmi porn star Ariel Vanean fucks Ken Summers below.
BelAmi Porn Star Ariel Vanean Fucks Ken Summers (https://t.co/gQDgSBy4HI) @lucaskazan @ariel_vanean @kensummersxxx @belamionline #belamichat pic.twitter.com/daT6chEXqC

— Queer Me Now (@QueerMeNow) December 8, 2016
Czech Republic vs. Costarica. Seasoned pro vs. up-and-comer. Football player vs. agile cheerleader… "We knew Ken and Ariel, on loan from BelAmi, would be a good fit for each other", says director Ettore Tosi. "And a HOT match they were". "We've long wanted to work with Ariel", adds producer Lucas Kazan."He's a porn legend in his own right and worth waiting for. We invited Ariel to Milano, asked him to grow his beard and gave him a rougher, manlier, more mature look, but no less sexy, than our friends at BelAmiOnline".
+ Bel Ami Gay Porn Star Ariel Vanean Fucks Ken Summers [30% OFF]
+ More of Ariel Vanean | Ken Summers