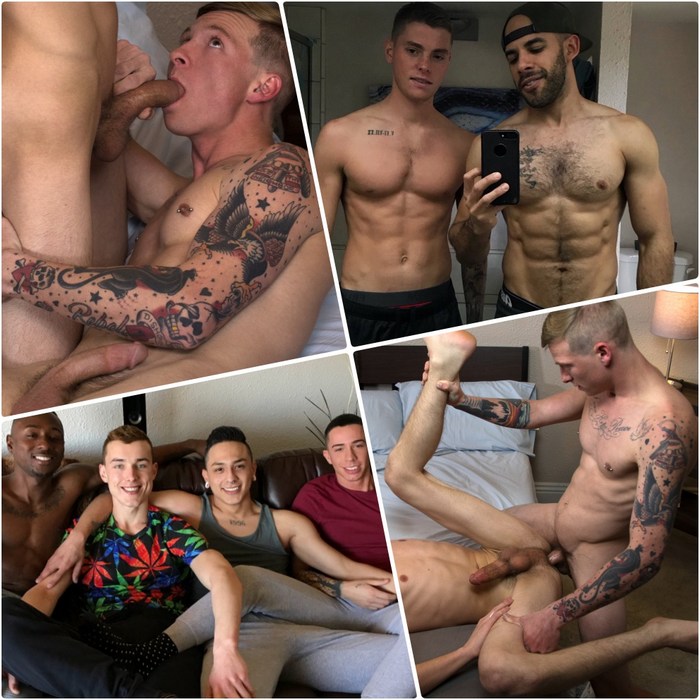 Many promising sex scenes coming from Guys In Sweatpants and here's a sneak peek. First gay porn star Austin Wilde shared some pictures of his latest discovery, cute gay porn newcomer Greyson Lane. He just shot a sex scene with Mateo Vice. And looks like Austin also shot a bareback orgy with Mateo Vice, Hoss Kado, Vincent O'Reilly & Miller Axton.
Later this week, you can watch another new model Rex in his gay porn debut. Rex is a straight guy who happened to get into a bar fight the night before his scene. That's why he has a black eye in his photos below. But this "gay for pay" model ends up making his bottom Aaron cum unexpectedly while fucking him bareback then blows his load twice!
9am at the perk???? @MateoViceXXX @GuysNsweatpants pic.twitter.com/1upvAl1PiT

— Austin (@AustinWilde) February 23, 2018
Gay Porn Newcomers Greyson Lane with Mateo Vice and Austin Wilde.
This is what I was forced to look at all day? @HossKado @GuysNsweatpants pic.twitter.com/w71kEukc4x

— Austin (@AustinWilde) February 23, 2018
Mateo Vice, Vincent O'Reilly, Hoss Kado & Miller Axton on the set of Guys In Sweatpants.
It's not often we work with straight guys, but Rex was super eager to have his first gay sex experience so we figured why not?? Leave it to the straight guy to get in a bar fight the night before a shoot, and show up with a black eye! Aaron's had his fair share of gay sex, but it's his explanation of his first time getting fucked that you should really hear! Rex says he can usually cum and keep fucking to give multiple loads… to which Aaron replies, "I need multiple!" And sure enough, Rex fucked Aaron so hard and good that he made him cum unexpectedly, and a few seconds later, dumped his load into Aaron's ass. But he wasn't done… he rolled Aaron over, held him down, and kept pounding him until he blew his second load all over his hole! Something tells me this won't be the last time Rex finds a guy's willing hole to dump his loads into.
+ Straight Guy Rex Fucks Aaron Bareback in After The Barfight [Coming Soon]