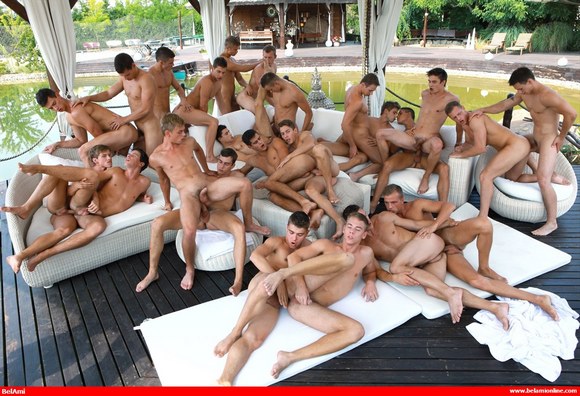 The main event of BELAMIONLINE.COM's 6-day orgy releases is today. Following the suckfest and 24 cumshots, now you can watch 24 Bel Ami Boys BUTT-FUCKING Orgy starring Kevin Warhol, Jack Harrer, Jim Kerouac, Dario Dolce, Gino Mosca, Arne Coen, Billy Montague, Brian Jovovich, Claude Sorel, Florian Nemec, Hoyt Kogan, Jaco Van Sant, Jean-Daniel Chagall, Johnny Bloom, Julien Hussey, Lance Thurber, Marcel Gassion, orgy, Rick Lautner, Rocco Alfieri, Sascha Chaykin, Scott Reeves, Steve Russell, Tom Pollock and Vadim Farrell.
This is the most expensive condom-free group sex ever from BELAMIONLINE.COM. I hope you will enjoy watching 24 hot Bel Ami models fucking each other in this biggest condom-free orgy.
Oh, and for those of you who have problem identifying some of the models, I have the pictures and names of all the Bel Ami models participated in this orgy below.