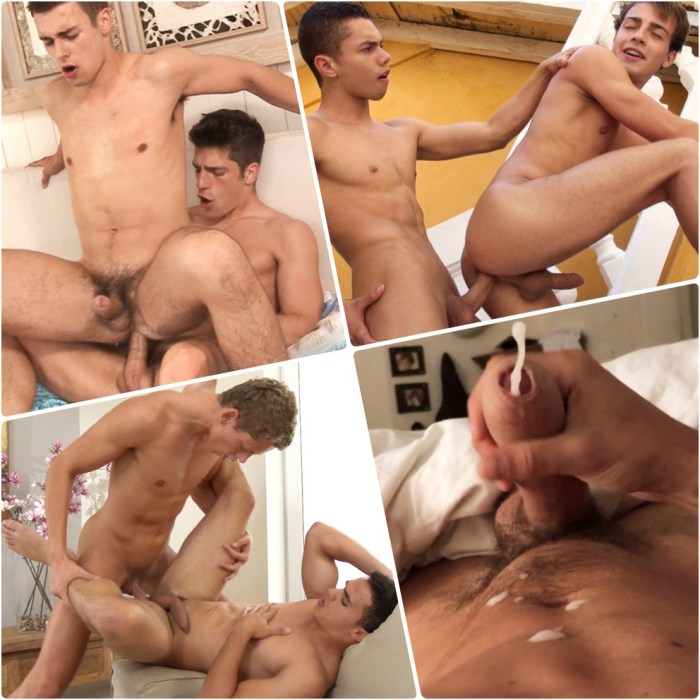 This weekend you can watch hot bottoms Alan Mosca and Miguel Estevez in two hot sex scenes. First Alan Mosca gets fucked raw by Ariel Vanean and another scene is hunky Miguel Estevez bottoms for Jerome Exupery.
And if you are a fan of gay porn documentary, don't miss Colombian Tapas – Part 11.
There is nothing better for Jerome than to be rewarded for a great fuck than being given a mouthful of creamy cum, and that is exactly what he gets from Miguel here today. Jerome by now is an old hand at this, making his debut on KinkyAngels and now working hard at developing his skills as a cameraman. His dark and sexy partner, Miguel, is from Hungary and in total, we filmed about 10 scenes with him, most of which you can find here on BelAmiOnline.
+ Jerome Exupery Fucks Muscle Bottom Miguel Estevez Bareback
We continue Colombian Tapas this week with our boys still divided into 2 teams, half on the tropical island of San Andres, and the other still on the mainland. Resident lovebirds, Helmut and Jerome are pining away for each other until the fun starts when both seem to pick up in spirits. We wish we could say that our boys, no matter how adventurous and sometimes reckless they may be, learn from there errors and never repeat the same mistake twice. Unfortunately, as you will see, this is obviously not the case….
It is time for the sexual introduction of another freshman to the members of our BelAmi family. Alan Mosca has already made his debut over on Freshmen.net, and we have seen his casting here, but today we have him in this excellent scene with Ariel Vanean. Today Alan has a problem, he wants to have a body like Ariel's, but because of a bad knee, can't go jogging. Of course it Ariel does not miss a beat in suggesting that a good fuck will burn a lot more calories than a run anyhow….
+ Alan Mosca Bottoms For Ariel Vanean