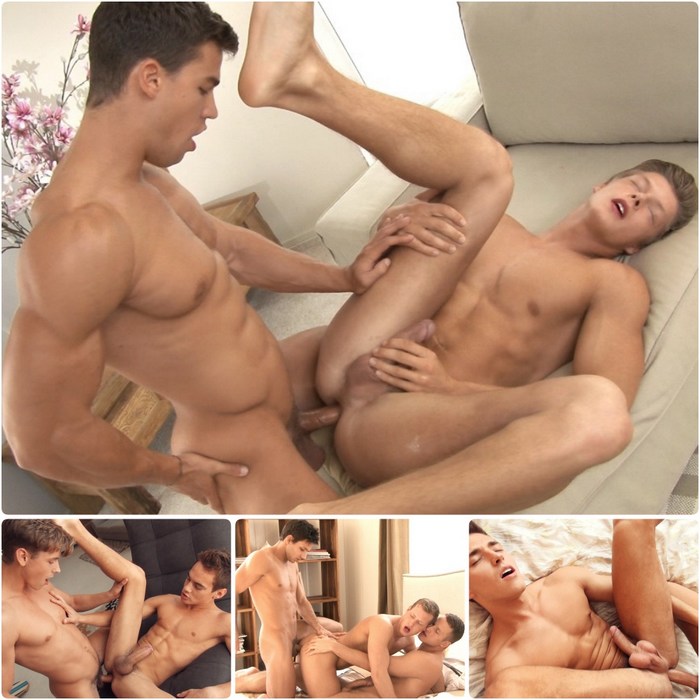 If you enjoy watching the behind the scenes video, don't miss the full video of gay porn star / bodybuilder Kris Evans fucks Christian Lundgren bareback. The scene is out now.
FRESHMEN also releases these hot scenes: Kevin Warhol fucks Jim Durden and Mario Texeira bottoms for Torsten Ullman. And on BelAmi main website, you can watch Marc Ruffalo and Zac DeHaan tag-team Brian Jovovich.
Kevin is intent on familiarizing Jim with the important Prague sites. Unfortunately, we only get a glimpse of the Prague castle at Vysehrad before it's revealed that Jim has different intentions. Namely familiarizing Kevin's dick with his ass. With some of Jim's early scenes he still shows a little shyness in front of the camera. By this time, he is at ease with being with other guys and this adds to his performances. As always Kevin is the consummate lover, making sure that Jim gets everything that he wants.
+ Kevin Warhol Fucks Jim Durden on FRESHMEN
The introduction to this scene might lead you to believe this is an All-Kevin update. However, his contribution here is just bringing Mario to be styled by our resident hairdresser, Torsten. Torsten is just supposed to fix his hair before a photo shoot but he takes the opportunity to become intimately acquainted with our new guy. Mario might not be a paying customer, but he gives a fantastic "tip". This is presented as a 3rd scene this week. However, there is no doubt that the boys and action are 1st class.
+ Mario Texeira Bottoms For Torsten Ullman on FRESHMEN
Marc has finally had an amazing revelation: He loves big cocks, and he no longer is buying into his old mantra of 'size doesn't matter'. For him now, it certainly matters and the bigger the better. We start off by pairing Marc with Zac DeHaan, who has a nice thick cock, but when that is not enough to satisfy him we add anothe guy who just happens to love getting fucked by big dicks, Brian Jovovich into the mix as well. Three Jocks, Three big cocks. How could it get any better?
+ Marc Ruffalo and Zac DeHaan Fuck Brian Jovovich Bareback
Today's pictures come to us from photographer Dylan Rosser. They were taken on one of our winter trips to South Africa, but unfortunately this time Dylan decided to shoot the set inside we'll guess that it was a rainy day that day. Regardless of the setting, both guys are strikingly handsome here and I'm sure that any of us would have been happy to soap their backs in the shower.
+ Adam Archuleta and Marcel Gassion
We have been saving this Kris Evans scene for you for a little while now. We always thought that this combination of power top and hungry bottom would be a great one to film and we certainly were not mistaken. The more that Kris gives, the more Christian wants. Overall, Kris spent more than 10 years filming with us, and his wealth of experience shines through here, enhanced by the fact that Christian is another of our models who really appreciates a great body…. and there is nothing that Kris loves more than being appreciated, and he shows that with one of the biggest loads he's ever shot.