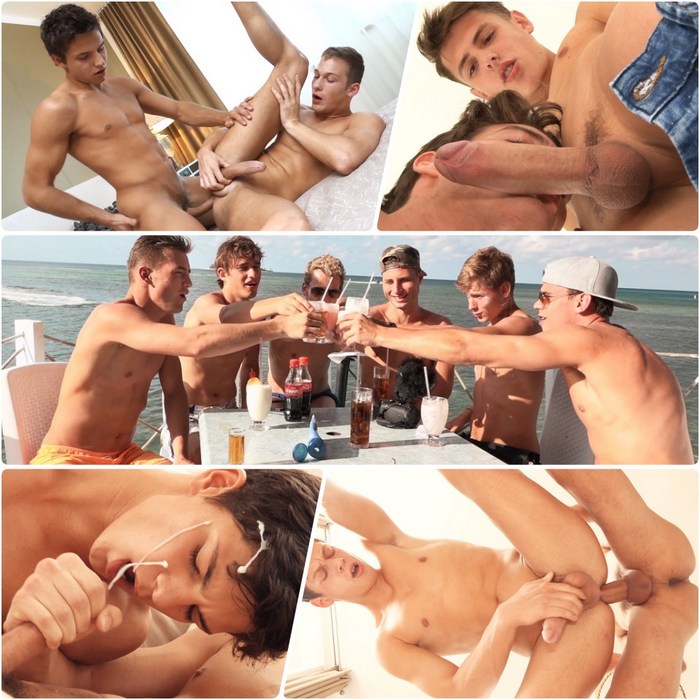 BelAmi just released Part 10 of its gay porn documentary Colombian Tapas. You can watch the XXX trailer below along with preview pictures of two sex scenes: Marcel Gassion gets fucked bareback by Marc Ruffalo and Justin Saradon fucks Jean-Luc Bisset.
Don't forget to check out these videos from FRESHMEN: Helmut Huxley fucks Jacq Broyard and Jeff Mirren bottoms for Nino Valens.
Fresh faced and cute, Jacq will make a perfect addition to our Freshmen team. And is there anyone better to provide this introduction than Helmut Huxley? Helmut has a practiced seduction routine. First, he offers food, then a massage, then great sex. These are offers lucky Jacq can't refuse.
+ Helmut Huxley Fucks Jacq Broyard Bareback on FRESHMEN
Motivation comes in all forms. Director Marty Stevens is offering Nino a trip to Prague as a reward for a good scene with Jeff Mirren. This is not needed. For Nino, good sex is its own reward. Nonetheless, Jeff offers to accompany Nino on his first trip to Prague after filming is complete. You're probably expecting Nino to bottom here. But for this encounter, he is topping. He does a fine job keeping Jeff satisfied as he shoots his load inside Jeff's ass!
+ Jeff Mirren Bottoms For Nino Valens on FRESHMEN
Since we had a pair of jocks for you on Tuesday, we thought to balance it out with a pair of twinks for you today. While they may be both young, cute and very talented in bed, no-one can accuse either Justin or Jean-Luc of being talented with a curling wand, as you will see in the opening to this scene. Luckily it is only a minute before the pants come off, exposing to rock hard, youthful erections. As you would expect, Justin is the top here as Jean-Luc relishes all the attention that his ass gets from Justin's tongue and cock.
+ Justin Saradon Fucks Jean-Luc Bisset Raw on BELAMIONLINE.COM
The title of this scene, "Please fuck me" might be considered misleading as Marcel never utters those words. However, he does say that with his eyes, with his body language, with the palpable eagerness he shows in getting fucked whenever a big dick is present. Today that big dick belongs to Marc Ruffalo. Marcel is a perfectionist- especially when it comes to bottoming. He likes everything perfect for his lucky top and sometimes takes too long getting ready. By the time Marcel comes out of the bathroom Marc has fallen asleep. Undaunted by this minor inconvenience, Marcel decides to wake him up cock first. We're sorry for the lack of foreplay, but Marcel's desire for dick overrode all other niceties.
+ Marcel Gassion Gets Fucked Bareback By Marc Ruffalo on BELAMIONLINE.COM
So here we are at a milestone #10 of our documentary series 'Colombian Tapas' and the team splits into 2 groups. The lucky ones get a few days on the island of San Andres (You will remember this from Helmut and Jerome's Coco Loco adventure) while the rest stay and continue filming on the mainland. Phillipe did create an interesting plot twist when he was dividing the group up, as he sent Jerome off to the island this time, but left poor Helmut back home. How they cope with the absence will be revealed here and in our next installment of Colombian Tapas.